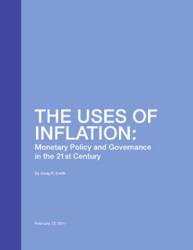 You will never again see inflation or money the same.
Phoenix, AZ (Vocus/PRWEB) March 09, 2011
"The Uses of Inflation: Monetary Policy and Governance in the 21st Century," a new white paper released today by Craig R. Smith, explains why currency debasement and rising inflation have become the new, unofficial government policy.
Most Americans have been led to believe that rising inflation is the inadvertent by-product of misguided government policies. "Not so!" says Smith, author and Swiss America Chairman. "My report documents six truths that conclusively prove otherwise."
Amid the widespread popularity of Keynesian economics among government and banking leadership in D.C., Mr. Smith researched the writings of John Maynard Keynes to find out if there was a method to the madness of today's unprecedented spending and money creation.
According to The Uses of Inflation, "Beneath the surface, inflation is being used as a government tool for: 1) helping political friends and harming enemies, 2) advancing an ideology, 3) secret taxation, here and abroad, 4) social engineering, 5) wealth redistribution, and ultimately 6) absolute power."
In an effort to provide our leaders with the empowering truth of the difficult, but necessary economic solutions for our ailing economy and declining dollar, Mr. Smith is sending a copy of his new white paper to each member of the U.S. House of Representatives and the Senate.
This easy-to-understand white paper explores the misguided political and economic worldview that is driving inflation sky-high. Today's defacto "weak U.S. dollar policy" is a last-ditch effort to keep our country from drowning in red ink, now exceeding $120 trillion.
"Sadly I must report to Americans that the approaching inflationary tidal wave has been deliberately set in motion, and my well-documented 40-page research report details how and why," says Smith, who is offering a free e-version to the public at swissamerica.com.
Surging gasoline and food prices reflect higher cost-of-living increases ahead. Real-world inflation, as reflected in commodity prices, has skyrocketed 85% since 2009, exposing the official 1.6% government CPI Index over the last year as deceptive at best.
George Orwell warned in his futuristic novel "1984" about the risk of being taken in by "Newspeak," government's deceptive use of words. We should be especially wary when those deceptions adversely affect our hard-earned money.
Today the U.S. dollar faces death by a thousand cuts by foreign nations and institutions such as the IMF according to Mr. Smith. The Wall Street Journal last week explained "Why the Dollar's Reign Is Near an End" and expects a "20% decline" in purchasing power.
But Mr. Smith says all is not lost, yet. "Congress can buy the necessary time to strengthen America by making a thousand cuts of their own to the government's reckless spending and the Federal Reserve's flooding of the marketplace with electronic and paper money."
"The Uses of Inflation explains why inflation is much more than higher prices and what steps you and your family can take to avoid the hard economic times in America's immediate future," says Smith. "After reading it you will never again see inflation or money the same."
Interested Americans with savings to protect from inflation and dollar weakness may receive a free email copy of "The Uses of Inflation: Monetary Policy and Governance in the 21st Century" by calling 800-289-2646 or clicking here: http://www.swissamerica.com/uses.php
To schedule media interviews with Mr. Smith, contact Bronwin Barilla at 800-950-2428 or email bkb(at)swissamerica(dot)com.
###