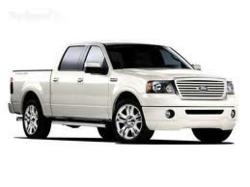 (Vocus/PRWEB) March 08, 2011
Vehiclestars.com announces the results of its best selling and most reliable used car index for 2011. The first of its kind for the company, the list represents one of several new initiates to gather, organize, interpret and understand company and auto trade industry data. Inputs include transaction details and consumer feedback.
Senior staff devised a complex formula to come up with a list of used autos and trucks -- including all light trucks, SUV's, compacts and sedans -- that represent used car market vehicles that are popular, top sellers, demonstrate overall reliable performance, and are 'best bets' for used car buyers and sellers.
So without further ado, Vehiclestars Best Selling Most Reliable Used Vehicles 2011 -- or the 'lucky 7':
● Ford F-150
● Chrysler PT Cruiser
● Honda Civic
● Ford Focus
● Toyota Camry
● Hyundai Elantra
● Honda CR-V SUV
The research used one of several methodologies developed to interpret volumes of data and anecdotal information generated by thousands of used car, truck and vehicle trades on Vehiclestars.com. Over the coming year, other parameters and inputs will generate more and different results that used car buyers and sellers can use when deciding on an auto deal. Ultimately, the company hopes to keep site visitors and members of Vehiclestars.com -- used car buyers and sellers and auto collectors and enthusiasts -- as up-to-date as possible on trends and activities in the market for used cars, trucks, SUV's and virtually all vehicles.
Vehiclestars facilitates the sale of hundreds of different makes and models of quality used vehicles -- so this is by no means a complete list -- but it does give some insight into used car market activity and some of its more common, quality trades.
The online solution for quick, private auto sales, VehicleStars.com helps hundreds of people every day to buy and sell all types of quality used vehicles. An up-to-the-minute database has a wide range of choice and the Company verifies the quality and accuracy of all postings through extensive referencing on CarFax.com and Kelleybluebook.com. This ensures fairness for advertiser and buyer and helps all to avoid on-line auto scams. For sellers, Vehicle Star agents will help determine a suggested sale price, along with an estimated sales time based on the past year's sales. Links and relationships with the industry's best finance agencies help buyers to secure vehicle financing and loans.
# # #