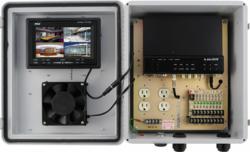 A four-channel H.264 DVR may not seem that unusual at first glance, but then you find out it is weatherproof! That changes things.
Jacksonville, FL. (Vocus/PRWEB) March 09, 2011
Steve Payne of Security Sales and Integration (SSI) Magazine selected Discount Security Camera's (DSC) Weatherproof DVR as one of the Top 30 Technology Innovations for 2010. SSI's 2010 Top 30 Technology Innovations gives some of 2010's head-turning creations due recognition and also drills down to uncover hidden gems that might otherwise have slipped under the radar.
Steve writes in his review that "A four-channel H.264 DVR may not seem that unusual at first glance, but then you find out it is weatherproof! That changes things."
The weatherproof DVR package includes everything you need for outdoor security recording. It starts with a lockable NEMA (National Electrical Manufacturers Association) rated outdoor box with fan. Inside the weatherproof box is a state-of-the-art 4 camera input DVR, a power supply to power cameras and microphones, and two power outlets for additional requirements such as heated housings and pan-tilt-zoom (PTZ) cameras. Additional options include an internal monitor for on-site viewing and searching as well as a 2.4 Gig wireless bridge for transmitting distances up to 3 miles over wireless LAN.
The WDVR4 (listed under its brand name in the review) is another great example of the unique and innovative products designed exclusively by Discount Security Cameras.
"I have spent many years on ladders and fishing cable through walls. Doing this field work gave me many hours to ponder how to improve designs and make camera installs cleaner and more effective. I am thrilled to be in a position now where I can make some of those dreams come true." says Dave Page, President of DSC.
The product provides an affordable solution to those tough remote applications where previous solutions have proven to be very costly. In the past, this type of application would require extensive trenching of cable back to a secure climate-controlled location where the DVR was located, or a combination of network cameras and wireless technology which can be very expensive.
"The WDVR4 is perfect for large outside areas like parking lots, marinas, airports, and residential and office complexes." says Gary Bibeau, Sales Director of Discount Security Cameras. "One of our biggest challenges in marketing the product is letting people know that the technology is available in a convenient and affordable package."
The product is available immediately from Discount Security Cameras and costs $1,999.
About Discount Security Cameras
Discount Security Cameras is an industry leader in professional security cameras, security camera systems and video surveillance systems for business and home owners. See their website for the new Complete Weatherproof DVR Solution, and be sure to check out their new Interactive Security Camera Learning Center.
Live DVR demos and in-house technical support are available. Call toll free at 1-866-301-7680.
###