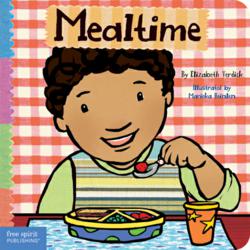 "Practical, positive tools for building and maintaining the supportive care environment that toddlers need."
—Dan Gartrell, Ed.D., "Guidance Matters" columnist in Young Children, the journal of NAEYC
Minneapolis, MN (Vocus/PRWEB) March 09, 2011
Free Spirit Publishing presents MEALTIME ($7.95), the ninth book in the award-winning Toddler Tools series of board books by author Elizabeth Verdick and illustrator Marieka Heinlen. In this book, kids learn about healthy nutrition and table manners. MEALTIME makes yummy-in-the-tummy time simple with phrases kids will remember and repeat, like "We eat our fruits and veggies to grow up strong and healthy." The book covers important mealtime routines from washing hands to trying new foods to sitting still until "Mealtime's done . . . time for more FUN!"
Toddlers are the ultimate multitaskers, moving in several directions at once as they play, experiment, explore, and learn. When it's time to stop for necessary daily routines, like putting away or politely sharing toys, saying good-bye, listening, sleeping, and eating, it can be hard for toddlers to break stride and focus. Books in the Toddler Tools series are meant to be read before or during the desired "time," or whenever little ones need positive reinforcement for new routines.
Playfully written by Elizabeth Verdick and whimsically illustrated with Marieka Heinlen's signature style of using vintage fabrics, MEALTIME, BEDTIME, CALM-DOWN TIME, MANNERS TIME, SHARING TIME, NAPTIME, LISTENING TIME, BYE-BYE TIME, and CLEAN-UP TIME (Free Spirit Publishing, $7.95 each) give toddlers the tools they need to grow and learn in a positive and nurturing environment.
Each book also contains helpful tips for parents and caregivers, such as:

From MEALTIME: Practice praising your child. Did she taste a new food? Or remember to use a napkin? Or get through a whole meal without spilling her drink? Notice each small triumph and remember to say, "Good job."
From BEDTIME: Create a routine. Young children need 10 to 12 hours of sleep each night, so set an early, regular bedtime. An hour before, help calm down your child by turning off the screens and avoiding roughhousing.
From CALM-DOWN TIME: Teach calming skills. Show your child how to take deep breaths in and out, find a quiet place, or use a comfort object like a blanket or doll.
###