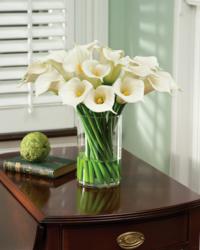 "Today's quality silk botanicals are absolutely amazing compared to ten, even five, years ago. You just have to know where to find them."
White Plains, NY (Vocus/PRWEB) March 10, 2011
In today's world of home décor, faux flower arrangements and plants – if you can find quality ones – are hardly a faux pas. They're a must-have, thanks to recent improvements in their technology. Designer showrooms are confidently displaying their everlasting beauty as an essential element in a well-decorated room. And now there is a trusted source for these premium products at very affordable prices: Silkflowers.com.
"Today's quality silk botanicals are absolutely amazing compared to ten, even five, years ago," Interior Designer Cathy Hobbs, ASID/LEED AP, said. "You just have to know where to find them since the market is still saturated with mediocre products that are a far cry from looking real. Fortunately, Silkflowers.com makes it easier than ever to have the highest quality faux botanicals delivered directly to our doorsteps."
Until the recent launch of Silkflowers.com, the challenge for consumers and designers has been finding top-notch silks without paying a pretty penny for custom creations from high-end boutiques. As the nation's largest supplier of designer-quality silk botanicals, Silkflowers.com offers the widest selection and inventory anywhere of creative designs to complement home décor of all styles, from traditional to transitional to contemporary chic. Shoppers can browse hundreds of affordable arrangements online as well as a vast array of decorative artificial flower stems, silk plants and faux trees.
So what sets premium silks apart from the rest? "Simple," Hobbs said. "They truly look and feel real. It all starts with the selection of the most natural looking flower and foliage stems and it ends with the design expertise in creating a finished product." No longer are stems hand-wrapped "too perfectly" with green or brown floral tape. Today they are artfully molded to replicate nature's imperfections like twisted bark and the bumps and lumps of newly forming buds on a branch. Petals and leaves are airbrushed by hand to achieve the intricate, complex colors of fresh flowers and plants. Even the texture of silk botanicals has improved with petals and leaves realistically feeling soft and velvety. "Silkflowers.com offers only these high quality products. They take the guesswork out of your shopping because anything you buy from them will look beautiful – and real. It's wonderful to finally have a source I can trust."
Arrangements by Silkflowers.com range in size from small stylish bud vases (a perfect accent for a desk, nightstand or bathroom) to beautiful centerpieces for a foyer or dining room. The company also offers a great selection of silk trees (cherry blossom, bamboo, ficus, to name a few) and seemingly endless varieties of artificial plants and grasses, ideal for brightening up a kitchen, office or bedroom.
Tim Hennessy, co-founder of Silkflowers.com, said: "Our products are handmade in our own factory in Cincinnati, Ohio, by our design team that has more than 30 years of experience arranging silk and fresh flowers. We select a wide array of realistic materials for our designers to work with, including beautiful vases and containers. Our customer service is excellent, too, and we expertly package our products to arrive in perfect shape for easy display right out of the box. For shoppers wanting designer-quality silk botanicals at reasonable prices, Silkflowers.com really is the best source."
Hobbs added: "The right faux botanicals really have become a decorating essential. You can't beat their ease, especially with today's time-constrained busy lifestyle. No more watering plants, cleaning up fallen leaves, and freshening up flowers in vases. The cost savings are a bonus, too, when you consider the high, recurring expense of fresh cut flowers that last only seven days at best. Invest in several faux arrangements and rotate them periodically. You'll spend far less than you will on fresh flowers while enjoying the same look."
For more information and to add silk botanicals to your home or office (or to someone else's; they make great gifts!) visit http://www.silkflowers.com. The company is also on Facebook and Twitter and it has a blog, http://blog.silkflowers.com.
Silkflowers.com is the nation's largest supplier of designer-quality silk botanicals, including floral arrangements, decorative stems, plants and trees. The company proudly offers the widest selection and inventory of beautifully designed silk creations at affordable prices, delivered directly to consumers with utmost care. Silkflowers.com's sister company, OfficeScapesDirect (OfficeScapesDirect.com), serves the commercial market in the same manner, offering the widest selection anywhere of designer-quality silk botanicals for business interiors and commercial spaces. Both companies are located in Cincinnati, Ohio, and White Plains, N.Y.
Cathy Hobbs, ASID/LEED AP, is the founder of the interior design firm aphereä (apherea.com) based in Williamsburg, N.Y. Founded in 2003, aphereä is a boutique style full-service design firm that in addition to executing high-end residential and commercial interiors, offers unparalleled design services to "do-it-yourself" design enthusiasts. Cathy is a professional member of the American Society of Interior Designers (ASID) and the International Interior Design Association, as well as an accredited home staging professional. She is also a LEED AP, recognized and credentialed by The U.S. Green Building Council for her exceptional expertise and knowledge of Green and Sustainable design.  
###