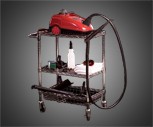 (Vocus/PRWEB) March 09, 2011
It should come as no surprise that hotels use large amounts of water. Studies have shown that use between 100 and 200 gallons of fresh water per occupied guestroom per day. With an average cost of two to more than five dollars per gallon, simple math shows how much this water costs. Consider that the U.S. Environmental Protection Agency predicts at least 36 states will face water shortages within five years, and it becomes apparent the need for hotels to conserve water.
Water conservation in the hotel industry is not new; it is now commonplace to reuse towels in hotels when they are not too soiled to save washing them and thereby conserving water. But one of the main areas where hotels use water is to clean, and skimping on sanitation is not an option for many hoteliers. The solution lies in dry steam vapor cleaners according to Amerivap Systems.
Already used by many leading hotels, dry steam vapor cleaners are multi-use tools that use a fraction of the water used by other methods including pressure washers. Using only quarts of water per hour rather than gallons per minute, commercial and industrial steam cleaners supply bacteria killing temperatures at a moisture level of only 5% and use no chemicals (another point for "team green.") The fact that commercial dry steam cleaners use no chemicals is especially important considering that chemicals are not only expensive and require proper mixing as well as msds administration, but also need to be shipped, and shipping costs are on the rise.
Using multiple attachments, housekeeping staff and engineers can clean bathrooms and grout, hvac filters, elevator tracks, and remove nicotine residue from walls. When you remove nicotine, you not only have a visible improvement to the space, but you also have a significant improvement in the smell as well. This is especially important considering that the number one reason cited by customers for not returning to certain hotels is bad odor.
Amerivap Systems, an industry pioneer in dry steam vapor cleaning technology, and its line of commercial industrial steam cleaners, solves cleaning solutions in any industry that seeks maximum cleaning and sanitation results while at the same time seeks to address consumer's demand for sustainable cleaning methods and water management. Please contact the company at http://www.amerivap.com.
###