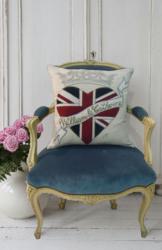 I can envision Catherine Middleton herself adorning her favorite reading spot with a 'Will and Kate' cushion.
Northampton, England (Vocus/PRWEB) March 10, 2011
Fine china and crystal are typically what come to mind when one thinks of high-end Royal Wedding memorabilia. However, as one Royal Commemoratives expert reports, the impending wedding of Prince William and Kate Middleton has inspired a new range of chic and contemporary items to complement the modish tastes of the future princess.
Stephen Church, fifth generation managing director of Church's China, says celebrated British textile designer Jan Constantine's whimsical, hand-embroidered Royal Wedding pillows – or "cushions" as they are called in Britain – is the perfect example of this trend.
Church says, "Jan Constantine's designs are highly sought-after items in the U.K. Her popularity has attracted an entirely new genre of customer to our shop, and I believe the Royal Wedding cushions in particular will help generate an interest in collecting among those of Will and Kate's generation."
The pillows are available in the U.S. and Canada via Church's online division, http://www.theukgiftcompany.com. Each bears the British flag pattern in the shape of a heart on a white background. An embroidered crown rests atop the heart, and a white banner bearing the words "William and Catherine" in gold-toned threading runs across its front. The pillow comes in two sizes. On The U.K. Gift Company website, the "Mini" at 12 square inches retails for $88.12. The "Large" at 18 x 12 inches retails for $123.23.
"Out of hundreds of pieces of Royal Wedding memorabilia, these are among my very favorite. They have a great look that complements modern to cottage-style interiors," says Church. "I can envision Catherine Middleton herself adorning her favorite reading spot with a 'Will and Kate' cushion."
Jan Constantine of Betley, near Stoke-on-Trent, specializes in original hand-embroidered textiles and home accessories including cushions, table linens, throws and wall hangings. All designs are hand worked on quality natural cottons linens and wools. The company's designs, with themes including Love and Peace, Pop Art and The British Collection, are also featured on china, bags, greetings cards and many more gifts. According to the company, each item is destined to be an "heirloom of the future."
Established in 1858, Church's China sells a wide range of china and other collectibles. Specializing in royal commemorative memorabilia, the company has locations in Northampton and Market Harborough, England as well as an online division, The U.K. Gift Company. For more information, visit http://www.theukgiftcompany.com.
Media Note: If you would like to arrange for a telephone interview with Stephen Church, please contact Nancy Marshall at nmarshall@marshallpr.com or Jennifer Boes at jboes@marshallpr.com. Mr. Church will also be available for live interviews in New York City at some point in March 2011. If you are interested, please follow up with Nancy or Jen at the emails above.
###