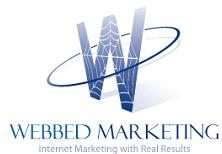 I know Webbed Marketing is a leader in the industry, and when I started interviewing, I really enjoyed the people here. I'm excited to be in Columbus, and I'm ready for the opportunities this position will bring.
Columbus, Ohio (Vocus/PRWEB) March 14, 2011
Webbed Marketing, a social media marketing and search engine optimization company in central Ohio, announces two new employees and upcoming social media events and webinars. Webbed Marketing continues to showcase its expertise in online marketing with client retention and growth, new employees and an impressive spring event schedule.
Webbed Marketing welcomed two new additions in March. Emily Hanson joined the team as an Internet marketing specialist, after graduating from Ohio University with a degree in public relations. Her previous job was at a global public relations agency in Ann Arbor, Michigan, where she served as an assistant account executive. Hanson's responsibilities at Webbed Marketing will focus on social media, PPC, SEO and account management.
"The Internet marketing industry is always growing and changing, and I thrive in this kind of environment," Hanson said. "I know Webbed Marketing is a leader in the industry, and when I started interviewing, I really enjoyed the people here. I'm excited to be in Columbus, and I'm ready for the opportunities this position will bring."
Jason Manion joined the Webbed Marketing team as a PPC expert. He is a 2010 honors graduate from Thomas Edison State College in New Jersey, with a degree in business administration. Manion's previous experience is with CollegePlus!, where he managed their PPC marketing. In addition, he has valuable business experience from his work in the development department of a small business.
"The PPC position with Webbed Marketing allows me to further develop my online marketing skills by working with people who are very experienced in that area," Manion said. "The ability to actually work with people who are more experienced than I am is a great learning opportunity for me. I really appreciate that Webbed Marketing is an established agency, with a history of providing great results to clients."
With an active presence in the local and national Internet marketing community, Webbed Marketing will be sharing its expertise at several events this spring. Kicking off the spring schedule, Balderaz will be hosting a webinar on March 23 from 2-3 p.m., "Don't Get Mad, Get Educated: Google Crackdowns and What They Mean for SEO." The webinar will address Google's new "Farmer" algorithm, which has shaken up the world of rankings and SEO. Reactions to these changes range from nonchalant to irate, with cries of appeal and approval. Webbed Marketing will ask attendees to take a step back, and take a look at how we got here, who was affected and what your business can do to make sure you're in with Google.
The Columbus Chamber of Commerce will welcome Webbed Marketing to its Young Professionals' Exchange, March 22 from 4-5:30 p.m. at the Giant Eagle Market District (Kingsdale). The YP Exchange forums provide an opportunity for young professionals (YPs) to network and learn about some of today's important topics and issues. The topic for this YP Exchange is employee-centric workplaces. Bill Balderaz, Webbed Marketing's CEO and founder, will discuss how the agency uniquely values its employees, and has implemented employee-centric programs to enhance their work experience and environment.
The agency will also be presenting at the prestigious eMarketing Association Conference in San Francisco, CA, April 19-20. The Power of eMarketing Conference offers an unparalleled and exclusive experience in best practices, case histories and processes for social, e-mail, and emerging marketing technologies. Marketing sessions, tracks, panels and breakouts will provide attendees the ability to design the conference around their particular interests. Networking opportunities with attendees and speakers will strengthen network connections, and enable new opportunities.
The Healthcare Advisors Association will welcome Webbed Marketing May 4-6 in Phoenix, Arizona, for a conference on social media in healthcare. Webbed Marketing will present on how social media research can help shape strategy for healthcare organizations. The agency will also address how healthcare-related organizations, including hospitals and physicians' practices, can use social media effectively while maintaining privacy and security standards.
The Netsmart Connections 2011 conference in Orlando, Florida, will welcome Webbed Marketing to discuss the role of social media in healthcare, May 16-19. At this event, attendees will learn how to use social media as a tool to communicate with patients, clients, the media and other professionals. The focus will be on understanding how to build a social media policy for a healthcare-related organization.
For more information about Webbed Marketing visit http://www.webbedmarketing.com.
About Webbed Marketing
Webbed Marketing is a team of experts in the Internet marketing field. Their goal is to grow businesses through the application of Internet resources. The firm specializes in search engine optimization and marketing, as well as viral marketing services, word of mouth and buzz measurement and social media strategies. Visit http://www.webbedmarketing.com for more information.
# # #