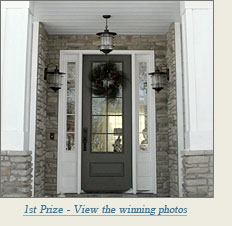 We make building a custom home affordable.
Uniontown, OH (Vocus/PRWEB) March 09, 2011
The recent Wayne Homes Customization Contest revealed some interesting facts. First, that a lot of Wayne Homes customers tend to do a lot of customization. And, second, that the biggest difference between Wayne Homes and so-called "high-end custom builders" is in what they charge for a custom home.
First place winners Kim and Jim Springer had originally planned to use one of those "high-end" builders. Then Kim had another idea: if they could find a homebuilder with a good floorplan and a willingness to extensively modify the floorplan, they could skip the $15,000 architect. It turned out to be the right Idea, but it didn't save them $15,000. By choosing Wayne Homes, Kim estimates they saved as much as $100,000.
And they still got exactly the home they wanted. With 10-foot ceilings throughout, a custom-designed mudroom, and Amish-crafted custom cabinets in the kitchen. In all, they ended up with 13 pages of changes and upgrades. "I don't think Wayne Homes said 'no' during the entire process," says Kim.
In second place were John and Judy Allison. "We loved the openness of the Alexandria floorplan," John says. It was the perfect canvas on which he and his wife could create their masterpiece. John, a teacher with summers off, wanted to do much of the work himself. So not only did he find his own source for Brazilian walnut flooring, he installed the floors himself.
He also created the wainscoting in the library and a mantle for the living room fireplace. All of which saved the Allisons a lot of money. They also redesigned the kitchen, moving the refrigerator into the pantry, creating a large mudroom/laundry room, and installing custom glazed alder cabinets. Oh yes, and they modified the home to give them panoramic views of the lake that's just out back. Well done.
There were so many strong entries in the contest that Wayne Homes decided to award two third places. Doug and Kris Trenkamp had previously owned a Wayne Home and couldn't dream of building with anyone else. But this time, they wanted to go bigger … larger garage, larger basement, higher ceilings. "We just wanted more," says Doug. "And Wayne Home works with you no matter what your budget." Kris had lots of ideas: "I watch a ton of HGTV. I wanted something that set the home apart." So a custom entry was a must. "I just asked, 'Can I do stone there?' They said, 'Sure.'"
The Trenkamps also added granite countertops to an expanded custom kitchen with tile backsplash and walk-in pantry. And the travertine tiles in the master shower are, well, masterful.
The other third-place home belongs to Gary and Laura Buck. The Bucks bought land in a neighborhood of million-dollar homes. "Our Wayne home looks like it belongs here," says Laura. "In fact, it looks like it's been here since the beginning."
The Bucks took the Montgomery floorplan and customized it almost beyond recognition, creating clean, modern lines, adding floor-to-ceiling windows and working directly with Wayne Homes' master carpenter to give the kitchen a super-refined look with three-foot-deep granite countertops. Even with all this, Laura says she saved at least $80,000 working with Wayne Homes. And she said the company was great to work with: "They didn't try to sell me what they had — they gave me what I wanted. At the price I wanted."
"It's simple," explains Maurie Jones, Wayne Homes vice president of marketing. "We make building a custom home affordable." And she has the contest winners to prove it.
About Wayne Homes
The task of constructing a home from the ground up is made less daunting thanks to Wayne Homes' four decades of experience, streamlined process and exceptional personal service. They help customers through every step — from home-site prep and financing to choosing from numerous combinations of floorplans, features and finishes. The result is a home of extremely high quality that perfectly suits the homeowner's needs. Homes range from 1,300 to 3,500 square feet and from the $80s to $200s (plus land cost). Learn more about building a custom, energy-efficient home by dropping by one of the company's eight model home centers or by visiting WayneHomes.com
###