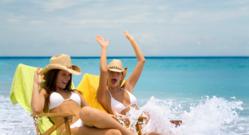 Alabama's Gulf coast offers miles of pristine, sugary-white beaches and inviting emerald-green waters, yet the area remains overlooked by many spring break travelers.
Gulf Shores, Alabama (Vocus/PRWEB) March 09, 2011
Spring break is just around the corner, that time of year when families and college students alike are searching for an ideal place to unwind and let loose. While most spring break destinations cater to one preferred group, there's an underrated area that comes to mind , offering a winning combination of relaxing beaches and vibrant nightlife. Welcome to Gulf Shores, Alabama and Orange Beach. Young's Suncoast Realty & Vacation Rentals is a premiere vacation rental company, specializing in Gulf Shores condo rentals that appeal to everyone under the sun.
Save money and get more out of your spring break experience in beautiful Gulf Shores and Orange Beach. No longer a secret to tourists already living in the Southeast, Alabama's Gulf coast offers miles of pristine, sugary-white beaches and inviting emerald-green waters, yet the area remains overlooked by many spring break travelers. Young's Suncoast has a number of properties featuring special rates for spring break, providing a wide range of budget to luxury accommodations. Book your spring break vacation any time between now and April 14, and save up to 25% off your Orange Beach vacation rentals. Be sure to take advantage of their Weekday Bonus, guests who book a vacation rental condo or house from Monday-Thursday will receive one free $25 seafood dinner certificate. Please note, a three night minimum stay is required for condominiums and a four night minimum stay for houses. Only one restaurant certificate per qualified weekday reservation. Discounts are available for some of Young's Suncoast's most popular properties, including units at Levin's Bend at The Wharf, San Carlos Condominiums, and Crystal Tower.
College students and young adults will love the affordable units available at Levin's Bend at The Wharf. As one of Gulf Shores' major entertainment districts, The Wharf features everything from fantastic shopping and dining options to movies, charter fishing and concerts! Levin's Bend at The Wharf features luxurious on-site condos. Reserve yours for spring break today and receive a free concert ticket package when you stay for three nights or more.
A vacation full of lavish comfort and leisure activities is waiting for you at San Carlos Condominiums, located right in the heart of Gulf Shores. The property features 142 Gulf-front condos, each equipped with its own private balcony for watching the sunset over the Gulf of Mexico. San Carlos offers a great family escape to Gulf Shores, and features an outdoor pool, fitness room and sauna.
Guests also have the option of staying at Crystal Tower, the crown jewel of West Beach. At its premier location on the North Side of Highway 182, this gorgeous complex features two hot tubs, an indoor pool, fitness center and game room. Visitors are always impressed by the island's air-conditioned walk over to the enormous Gulf-side pool and lazy river. Crystal Tower is truly an experience you have to see for yourself.
Don't forget to ask about the many Gulf Shores pet friendly rentals available through Young's Suncoast. Spring Break isn't just for people to appreciate. Dogs are welcome to visit Alabama's Gulf coast and Orange Beach, too.
No matter where you choose to stay over spring break, let Young's Suncoast be your guide. Alabama's Gulf Shores and Orange Beach have plenty to offer families and students in need of a fun, relaxing vacation. The area offers great shopping, dining, golfing and lots of exciting water activities for all ages. If you think going on a parasailing or dolphin-watching excursion is too expensive, you might want to reconsider. With all the money you'll be saving by booking with Young's Suncoast, you can do just about anything your heart desires!
The region is also a great place for history buffs and nature lovers! Young's Suncoast offers a selection of secluded Fort Morgan vacation rentals as well. The peninsula, which is surrounded by the Bon Secour Bay, Little Lagoon and the Gulf of Mexico, offers 20 miles of golf courses, nature walks, peaceful beaches and the Bon Secour National Wildlife Refuge. At the end of the road, you'll find Fort Morgan, an historic spot famous for its role in the Battle of Mobile Bay during the Civil War. Check it out in honor of the Civil War's Sesquicentennial!
Book your Alabama Gulf Coast rentals now through April 14. For more information, call Young's Suncoast at 800-826-1213 or visit http://www.YoungsSuncoast.com.
###