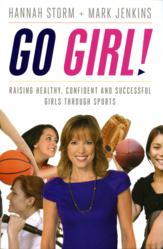 I wrote Go, Girl!, after realizing that even though I had been a sportscaster for most of my career, I really didn't know the basics about my own daughters and sports participation
New York, NY (Vocus/PRWEB) March 10, 2011
What if there were something parents could do that would make their teen less afraid to raise her hand in math and science class? What if this same thing would lower her risk of abusing drugs and alcohol? Lower her chance of getting pregnant as a teen? Give her a healthier body image? Give her a head start in the business world? And what if it were something she would have FUN doing?
Sports do all of this and so much more.
In an updated release of Go Girl! Raising Healthy, Confident and Successful Girls though Sports (Sourcebooks), Hannah Storm, ESPN sportscaster and mother of three daughters lays out a roadmap for parents who want to encourage their daughters' continued participation in sports at an age where more and more girls pass athletics up.
"I wrote Go, Girl!, after realizing that even though I had been a sportscaster for most of my career, I really didn't know the basics about my own daughters and sports participation," says Hannah. "There was no resource out there that encompassed everything from how to teach your daughter to ride a bike, to coaching, nutrition and sportsmanship. I came to learn how sports are uniquely beneficial to girls in terms of their self-esteem, body image and academic performance. It really helped me with my own daughters and I hope it's a good resource for parents as well."
Hannah helps parents take an active role in supporting their daughter's athletic interests, giving her the edge she needs to excel in life. A blue-ribbon committee formed by the President's Council on Physical Fitness and Sports released a study showing that high school girls who play sports are more likely to get better grades in school, graduate, and have higher levels of confidence and lower levels of depression. As little as four hours of exercise per week may reduce a teenage girl's risk of breast cancer by up to 60 percent.
Despite the numerous benefits that come from athletics, adolescent girls are still not encouraged to participate in sports nearly as much as boys are. Go Girl! shows parents:

When to start your child in organized spots, and how to choose the right sport
How to keep pre-teens and teenagers interested
What to do if your child shows elite potential
How to evaluate your child's coach
What it means to be a good sports parent
Go Girl! is the ultimate guide to making sure that young girls take on life with confidence, passion, and a love of the game.
About the Author
Hannah Storm, an award-winning sportscaster and newscaster, hosts the weekday edition of ESPN's SportsCenter. She also anchors SportsCenter's coverage of marquee events, including Grand Slam tennis and the NBA Finals. In 2008, she founded BrainStormin' Productions. Her first project, which she received The 2011 Gracie Award from the Alliance for Women in Media for Outstanding Producer News/Non-fiction, was "Unmatched," the critically acclaimed documentary chronicling the rivalry between Chris Evert and Martina Navratilova. She produced the film for ESPN's "30 for 30" series. Storm also created the Hannah Storm Foundation in 2008, which raises awareness and provides treatment for children suffering from debilitating and disfiguring vascular birthmarks. The Hannah Storm Foundation is partners with the Vascular Birthmark Institute of NY to assist patients with surgical costs and to affect change in the area of insurance coverage. Previously, Storm worked at CBS News, NBC Sports and CNN. Storm is on the Board of Advisors for espnW, the network's new initiative for women's programming.
# # #