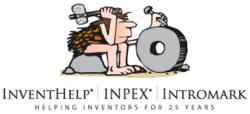 Pittsburgh, PA (PRWEB) March 09, 2011
InventHelp®, America's largest inventor service company, announces that one of its clients, an inventor from New York, has designed a modified table that features a conveyor belt for placement on the floor or on top of a standard dining table. This invention is patented.
"Table Server" would be designed to enable diners to eat without requiring other people to pass them dishes of food and potentially causing spills. The unit could save diners from having to return to a buffet table for more food once they are seated. Ideal for buffet-style meals, the revolving table could be used at home, at a banquet hall or at a catering service.
Table Server would consist of a modified table with a built-in conveyor belt. The table could be producible in a variety of sizes and would resemble a traditional dining room table. The unit would be composed of wood, rubber and metal. A conveyor belt would be built into the top of the table and run around the edges on all sides. A pedestal base would connect to the bottom of the table in the center. The support bars would be positioned underneath the table. A support bar would run from either end of the table to the pedestal base. Two conveyor belt controllers would also be positioned underneath the table. The controllers would be connected to cables that attach to either side of the pedestal base. The controllers would feature two buttons: one would move the belt in a clockwise direction; the other would move the belt in a counterclockwise direction. To operate, a user would position the device on the floor, or on top of a standard dining table, and place various dishes onto the conveyor belt. Diners would be seated at the table and use the controls to move the belt in either direction in order to access the various dishes.
InventHelp® is attempting to submit the invention to companies for review. If substantial interest is expressed, the company will attempt to negotiate for a sale or royalties for the inventor. For more information, telephone Dept. 06-MTN-224 at (800) 851-6030.
# # #