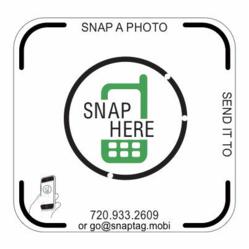 SapientNitro is a leader in celebrating and using the smartest, most innovative solutions in the market place.
Denver, CO (Vocus/PRWEB) March 09, 2011
SpyderLynk, a leading marketing technology company whose flagship product is the logo-centric 2D mobile barcode called a SnapTag™, and SapientNitro are teaming up at this year's SXSW Interactive Conference to demonstrate interactive innovation at the conference of the year.
SapientNitro returns to SXSW to host the always anticipated, opening night Mix at Six Party, where they'll raise the tent on their freakishly entertaining, technologically mesmerizing Carnival of Convergence using SnapTags to interact with partygoers and offer great prizes.
"We're delighted that SapientNitro has chosen to partner with us to bring interactivity to one of the most talked about innovation conferences of the year – what a great event to showcase our cutting edge technology," said Nicole Skogg, CEO of SpyderLynk.
"We are excited to make SnapTags a part of SapientNitro's opening night festivities, said Jennifer McLean, Corporate Marketing Director for SapientNitro. "Using a SnapTag in such a high profile environment gives us an opportunity to demonstrate that SapientNitro is a leader in celebrating and using the smartest, most innovative solutions in the market place."
Those attending the conference and party will find SnapTags at the event. Party goers can snap and send to win instant carnival prizes and be entered in the grand prize drawing for a MacBook Air. Festivities include a live performance from The Pains of Being Pure at Heart, as well as DJ Spider spinning deep into the night. An open bar, appetizers, and amazing sideshow complete this unique experience.
When: Friday, March 11, 2011 from 6 p.m. to 2 a.m.
Where: Venue 222 at 222 E. 6th Street, Austin, TX Click here for a map.
About SpyderLynk
SpyderLynk activates branding to drive marketing results. Leveraging innovations in mobile, image analysis and database analytics, SpyderLynk created the SnapTag™, the only logo-centric 2d mobile barcode in the marketplace today. SnapTag technology turns brand logos, featured on any type of packaging, advertising, signage or screens, into interactive marketing tools. Consumers with smart or standard camera phones can snap and send a picture of a SnapTag to instantly access offers, content, promotions, and information. SpyderLynk's proven solution enables brand marketers to drive and measure consumer engagements through mass media while providing sophisticated analytics on consumer behavior, campaign and media impact information.
Leading brands such as Coke Zero, Revlon, L'Oreal, MillerCoors, Warner Brothers, Toyota, Bud Light and others are using SpyderLynk's pioneering technology to engage consumers and accelerate consumer purchasing decisions. Based in Denver, Colorado, SpyderLynk was founded in 2006 and can be found online at http://www.spyderlynk.com.
About SapientNitro
SapientNitro(SM), part of Sapient®, is one of the world's largest integrated marketing and technology services firms. We create and engineer highly relevant experiences that accelerate business growth and fuel brand advocacy for our clients. By combining multi-channel marketing, multi-channel commerce, and the technology that binds them, we influence customer behavior across the spectrum of content, communication and commerce channels, resulting in deeper, more meaningful relationships between customers and brands. SapientNitro services global leaders such as Citi, The Coca-Cola Company, Mars, Singapore Airlines, Target, and Vodafone through our operations in North America, Europe, and Asia-Pacific. For more information, visit http://www.sapientnitro.com or follow us on Twitter @sapientnitro.
Sapient is a registered service mark of Sapient Corporation.
About SXSW
SXSW® Interactive features five days of compelling presentations from the brightest minds in emerging technology, scores of exciting networking events hosted by industry leaders, the incredible new SXSW Trade Show and an unbeatable lineup of special programs showcasing the best new digital works, video games and innovative ideas the international community has to offer. Join us for the most energetic, inspiring and creative event of the year, taking place March 11-15, 2011 in Austin, Texas.
###