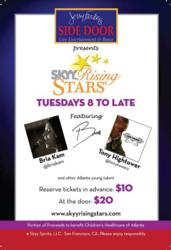 We are excited to be able to offer a wonderful performance environment, and the support that talented young performers need to build an active fan base.
Atlanta, Georgia (Vocus/PRWEB) March 09, 2011
Bria Kam is a talented young singer in Atlanta. At 24 years old, she, like many others before her, has been doing her time singing her songs in restaurants and bars across the city. Beginning, in March, Bria and other selected young "rising stars" will be given a powerful opportunity to perform live in a new nightclub in Atlanta and build their audience following with a major assist from a top vodka brand and a team of professional marketing and personal brand experts.
SKYY Rising Stars is a new weekly live performance showcase at Jerry Farber's Side Door Entertainment Club at Atlanta's famous Landmark Diner in Buckhead. The club was recently opened by Jerry Farber, a long time comedian and piano player, well known in Atlanta and across the country. The venue is reminiscent of an Upper West Side New York jazz club, offering live nightly entertainment featuring veteran singers, musicians and comedic talent.
Every Tuesday beginning March 15, 2011, the Side Door will be home to "SKYY Rising Stars," which is sponsored by SKYY Vodka and is developed by Creative Word & Image, Inc. an Atlanta social media and marketing communications creative agency.
"We are excited to be able to offer a wonderful performance environment, and the support that talented young performers need to build an active fan base," said Michael Shoer, of Creative Word & Image, which is supporting the performers with social media and brand marketing. "In today's world it's not good enough just to be a great talent to make it. Club owners, concert promoters and even booking agents want proof that these performers can bring an audience with them wherever they perform. So we're helping the audience find them and become loyal fans of their music and also helping to connect these artists with corporate sponsors and clients."
"I keep pinching myself," said Bria Kam. "I am so honored to have been chosen to headline the launch of SKYY Rising Stars. I was invited to be a guest on stage at the club on New Year's Eve and the next thing I know, I have a brand manager and a very cool company like SKYY Vodka boosting my musical career…and CWI has also booked me to write and perform an original song for another huge brand client of theirs."
In addition to Kam, Atlanta native Tony Hightower, who also performs and records under the name Tony Towerz will be featured in the first month of SKYY Rising Stars.
"Tony has an amazing stage presence and a sound that transcends musical genres and the potential to reach a diverse young audience," said Shoer. "We heard him get up from the audience and sing an impromptu jazz number with Joe Gransden and his jazz quartet one Wednesday night at the Side Door, and we knew we had found another rising star."
Hightower, whose mother Theresa Hightower is an accomplished Jazz and Blues vocalist, has grown up in a musical family. "I have had some breaks, and I am blessed to have had some gigs to start to build a following, but nothing like this and the kind of exposure that it promises," said Tony Hightower, whose latest work is available for download at http://plastiksoul.com/.
Tickets for the Tuesday night performances are available online at http://www.SKYYrisingstars.com as well as additional information about the Side Door club and social media following information and information about all of the performers who will be featured.
The SKYY logo and trademark is copyright SKYY Spirits LLC. San Francisco, California. Drink Responsibly.
###