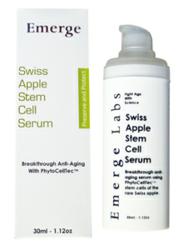 High Tech Nature
New York, NY (Vocus/PRWEB) March 08, 2011
Emerge Labs located in NYC is proud to be a part of the Cosmetic Executive Women (CEW) 2011 Beauty Awards on March 9th 2011at the Metropolitan Pavilion located 125 West 18th Street, Btwn. 6th & 7th Aves in New York City. Emerge Skin Care will be featuring their products iLift and the Swiss Apple Stem Cell Serum. The first 100 people to visit the Emerge Labs table will receive a free Swiss Apple Stem Cell Serum, a $120 value.
Emerge Lab's Swiss Apple Stem Cell Serum presents a revolutionary technology that protects skin stem cells and combats chronological aging. The breakthrough patent pending active ingredient, PhytoCellTec Malus Domsestica, boosts the production of human skin stem cells, protects human skin stem cells from stress, thus decreasing wrinkles and producing younger, fresher looking skin.
Using a novel, patent-pending plant cell culture technology, Emerge Labs introduces PhytoCellTec - dedifferentiated callus cells from a rare Swiss apple that studies show protect skin stem cells thus promoting self-renewal capacity of the skin. Apple stem cells are rich in epigenetic factors and metabolites that assure the longevity of skin cells. The application of plant cell cultures to maintain the function of skin stem cells is a breakthrough in anti-aging. The Swiss Apple Stem Cell Serum is paraben free and never tested on animals.
iLift is a lifting fluid for the eyes containing the highly effective combination of Bio-Peptides, EyePro 3X, extracts and Hyaluronic Acid that reduces the appearance of fine lines, wrinkles & puffiness and diminishes dry, crepe-like skin around the eye with an incredible moisturizing "lift."
Emerge Labs is a line of products specially formulated, tested and used by leading physicians around the world for the treatment of skin related problems. Their skin care line is based on years of medical research of how their specially designed formulas interact and affect different skin types. Their products are natural and free from synthetic chemicals, fragrances and preservatives. Emerge Skin Care's product line has evolved to meet the needs all different skin types and to enhance the results achieved with medical procedures performed on the skin.
To contact Emerge Organic Labs call (866) 327-5069. For more information about Emerge Labs visit OrganicSkinCare.com
# # #