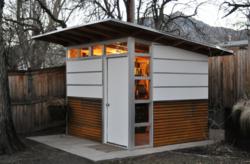 We are giving customers aesthetically pleasing and affordable options - this is what's most important to them as well as their neighbor.
Mike Koenig, Co-Owner
Boulder, Colorado (Vocus/PRWEB) March 10, 2011
Entering their third full year in business, Studio Shed has confidently expanded their product offerings and made vast enhancements to the Studio Shed Online Store. To help spread the word they're offering 5% off through April.
PRODUCT UPDATE
Trim & Siding
Since their inception, Studio Shed has carried Collins Truwood Siding available in full 20" x 48" sheets called Collins Block (formerly Collins Full). The company recently added Collins Lat Siding to the mix which comes in 6" x 48" strips for a more traditional, horizontal aesthetic. To complement the Collins, Studio Shed added COR-TEN steel to the mix. COR-TEN has a naturally oxidizing finish with a rust-like appearance when exposed to the weather for several years. The corrosive effects of rain, snow, ice and fog form a dark brown oxidized coat over the metal which inhibits deeper penetration and negates painting and costly rust-prevention maintenance.
(Collins Truwood Siding is FSC certified – weather and waterproof and will last a lifetime and has a 30 year manufacturing warranty against defects.)
Dimensions
Responding to consumer demand, Studio Shed will customize a wall up to 60 feet in length – a manufacturing development that allows for garages or larger studio, bedroom or storage space.
WEB UPDATES
Studio Shed's Photo gallery page serves as a prime location for inspiring consumers and getting creative juices flowing. With a successful 2009 and 2010 Studio Shed has a rich assortment of images to share with potential customers. The gallery page, which generates the highest amount of traffic on the site, features a new layout with one large captivating image positioned above 64 thumbnails divided into two categories – Interior and Exterior. Once an image is selected, it expands and floats in the center of the screen. With a click of a button, and at their own pace, viewers can easily glide through the remaining images in that category.
The Product page has been enhanced with a large image of a Studio Shed with eight illustrative icons sprinkled throughout telling the viewer that when they scroll over an icon, a window will appear with a description about this particular feature. These pop-up descriptions incorporate roof and wall construction, trim and siding, doors, hardware, structural and operable windows, and floors.
With the updated Custom Studio Shed Configurator, customers can go through a series of questions and build a product that suits their needs. Each variable has numerous options to choose from. For example, walls are available anywhere from 6 to 20 feet in length (up to 60 feet for custom), six different sidings materials and styles to mix and match, 20 paint colors, French, metal or glass doors, floating or concrete floors and more. As the customer moves through the selection process a window featuring 'their' shed and the options they've selected advances on the screen. If an online customer doesn't see a feature they'd like, they are encourage to call or email the company directly and make the request, from overhead garage doors to solar power panels.
STUDIO SHED® ships nationally. Customers can install their Studio Shed themselves or select Studio Shed's Certified Installation team at $450 and up for a one to two day installation. Do-It-Yourself-Kits start at $4500 and you can choose your own size (from 6'x 8' to 16' x 60') with a 20-color palette. Studio Shed's 100% solar built prefabricated panels use a variety of green building materials: FSC Certified Collins Siding, recyclable aluminum-frame windows and Low-VOC paint. The complete structure is engineered with absolute minimum waste.
STUDIO SHED® - an innovative take on traditional backyard fixtures. More than just a shed – it's an extension of your home with a variety of uses: an office, an art studio, a kid's playroom, or simply a place to store a mountain bike.
For more information, please call 303.817.2112 or go to http://www.studio-shed.com
###