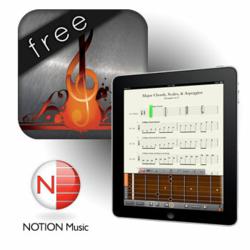 (Vocus/PRWEB) March 10, 2011
Progression, a guitar tab editor for the iPad gives the user the convenience of an easy-to-use guitar tab creation tool right at his/her fingertips. An incredible app for any guitarist, this "Free" version of Progression gives the user the ability to write, edit, and playback guitar tablature using real audio samples. The user can capture musical ideas anytime, and with the mobility of the iPad, the user can take this helpful application anywhere!
With a user-friendly interface and simple interactive entry fretboard, Progression gives even the inexperienced guitarist an abundance of guitar functions, including but not limited to: vibrato, slides, string bending, hammer-ons, pull-offs, trills, whammy-bar methods and more.
In addition to the tab editor the user can also hear music performed with real audio samples, delivering the most realistic playback possible. The user can choose tempo, key, and share work with anyone by simply sending a file that others can view, hear, and edit themselves. Progression for iPad can also email a .pdf image for printing or sharing with non-iPad users.
About NOTION Music
NOTION Music, Inc. is dedicated to the advancement of music through innovative software solutions. NOTION's award-winning software simplifies music composition, notation, and performance with the sounds of world-class musicians. NOTION Music, Inc. is headquartered in Greensboro, North Carolina, with an international office in London, England.
# # #