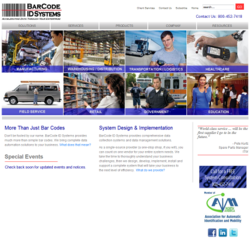 As a trusted adviser to our clients and potential clients, we provide much more than barcoding equipment.
Atlanta, GA (Vocus/PRWEB) March 09, 2011
BarCode ID Systems, an enterprise mobility specialist and data automation solutions provider, announces the launch of its newly renovated web site, http://www.BarCodeID.com.
The new site is not only a redesign of the well-established domain, it more accurately reflects the company's direction as a complete mobile computing solutions provider, industrial automation specialist and enterprise printing authority.
The web site contains an abundance of industry and application information, geared to inform and educate clients and prospective clients engaging in Auto ID projects. With eight industry sectors and easy navigation from the home page, visitors can find solutions for Manufacturing, Warehousing/Distribution, Transportation/Logistics, Healthcare, Field Service, Retail, Government and Education.
"Our new web site is a complete change and vast improvement from our old site," commented Julie Leonard, Marketing Director at BarCode ID Systems. "While the old site design was dated with a product-centric focus, the new site truly encompasses who we are as a company—a complete Auto ID solutions provider." Leonard continued, "As a trusted adviser to our clients and potential clients, we provide much more than barcoding equipment. In fact, while the right products are crucial, they are supplemental to the software and integration that make up a complete enterprise data management system. Our visitors will find an experienced provider who can offer viable solutions, in addition to the best industry products and educational resources needed to learn more."
The web site also provides information, white papers and case studies on the technologies that can make businesses more efficient and productive, such as barcode systems, mobile computing, wireless infrastructure and RFID, and the software solutions that integrate with enterprise resources. The site will continue to be updated with additional resources including a corporate blog coming soon.
About BarCode ID Systems:
BarCode ID Systems is an experienced provider of Auto ID technologies, specializing in mobile computing and printing, industrial automation, bar coding, RFID and field mobility applications. Privately owned and headquartered in Atlanta, Georgia, BarCode ID Systems specializes in inventory management and mobility solutions for manufacturing, distribution, healthcare, retail and field environments. BarCode ID Systems is a value-added Business Partner with many leading hardware and software manufacturers in the industry, including Motorola Solutions and Zebra Technologies.
###