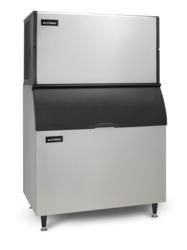 Summer tends to be a time when customers demand long, thirst-quenching drinks.
(Vocus/PRWEB) 11 March 2011
Lashings Of Ice – The Perfect Summer Drink
Classeq supplies the Ice-O-Matic ICE1405 high production cube ice machine
Summer tends to be a time when customers demand long, thirst-quenching drinks. They like to linger in the much awaited, warm sunshine and take advantage of sitting around enjoying the evening twilight. But whether the drink is a long alcoholic cocktail, smoothie, slushie or a stylish tall glass of refreshing fizzy water, the perfect summer drink has to be crammed full of crystal clear ice to be a success.
To achieve the best quality iced beverage serving, a top priority for busy bars and restaurants is a reliable ice maker. Classeq supplies the large Ice-O-Matic 1405 modular cube ice maker. It is simple to operate and maintain, and produces plenty of long-lasting ice cubes, perfect for a wide variety of drinks.
Constructed from durable stainless steel with a finger-print proof moulding and stainless steel finish, the 1405 ice maker is equally at home front of house or in the kitchen or serving area. Measuring 1219mm wide x 610mm deep x 66mm high, it can produce up to 574kg of ice per day.
The Ice-O-Matic 1405 is extremely reliable ensuring a constant supply of fresh ice. Its evaporator combines a copper core for superior conductivity with electroless nickel plating to resist the damaging effects of water and ice. A harvest-assisted ice production mechanism pushes the ice into the bin to speed up production.
Built-in antimicrobial protection on internal parts prevents bacteria and slime build up for the life of the ice machine and Ice-O-Matic's optional water filtration system provides protection against unpleasant tastes, odours and scale formation. The storage bins, which are available separately, include a built-in scoop holder for improved sanitation while a safe-hold hinge holds the bin door open for quicker and safer access to the ice.
For ease of servicing and maintenance there is no air filter to clean or change and all key components are easy to reach through the front opening. Classeq covers the ICE1405 with a full three-year parts and labour warranty.
Ice-O-Matic ice machines are manufactured by Scotsman Industries Group and are distributed in the UK by Classeq, part of the Winterhalter UK group. The Ice-O-Matic range includes the ICE Series cube ice machines, which make premium quality cube and half cube ice; flake ice machines, producing high quality flake ice suitable for medical use or for presentation and preservation of fresh meat, poultry and fish, and, pearl ice machines, producing soft, chewable ice crystals. Ice-O-Matic machines are available as modular machines with separate storage bins or as self-contained machines with inbuilt storage.
For information on the Classeq Ice-O-Matic range of ice machines, including details of your nearest stockist, call 0844 2259249.
For more news about Classeq Ice-O-Matic visit the press office at http://www.publicityworks.biz
Paul Crowley at Classeq Winterhalter: 01908 359000
Links:
Classeq: http://www.classeq.net
Winterhalter UK: http://www.winterhalter.co.uk
About Classeq Glass & Dishwashing Systems Limited:
British manufacturer Classeq produces the UK's leading and most popular mid-priced warewasher brand for caterers. Part of the Winterhalter Group, and ISO 9001-2000 accredited, Classeq provides unrivalled customer support through their own service division and a nationwide network of distributors, offering everything from pre-sales advice to after-sales service.
Classeq, Roebuck Way, Knowlhill, Milton Keynes MK5 8WH, U.K.
Tel: 0844 2259249 Fax : 0844 2259248 E-mail: sales(at)classeq(dot)co(dot)uk http://www.classeq.co.uk
###