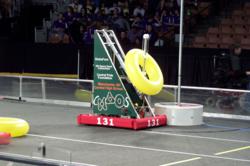 "GlobaFone is pleased to support the team because our business (satellite communications) is clearly math and science based."
Manchester, NH (Vocus/PRWEB) March 10, 2011
Central High School's CHAOS Team 131 of FIRST (For Inspiration and Recognition of Science and Technology) Robotics won two awards at the Granite State Regional Robotics Competition. The awards include the Engineering Inspiration Award, which celebrates outstanding success in advancing respect and appreciation for engineering within a team's school and community. The team also won the award for the Regional Finalist, coming in second in the fierce competition. The team received sponsorship support from Portsmouth, NH based GlobaFone, a leading satellite phone Service Provider.
"We are delighted to have GlobaFone as a team sponsor," said Kristen Kelso, mentor to the team. "GlobaFone's CEO, Lou Altman has been a supportive parent and we're pleased to receive the funding as our team depends on sponsorships to operate."
"I promise you've never seen anything like this before,' said GlobaFone's CEO. "Thousands of kids cheering as hard for their robots as sports fans do for their favorite players. GlobaFone is pleased to support the team because our business (satellite communications) is clearly math and science based." Altman volunteers at the global competition FIRST Robotic Competition.
Founded by (Segway inventor) Dean Kamen, the FIRST Mission is 'to inspire young people to be science and technology leaders, by engaging them in exciting mentor-based programs that build science, engineering and technology skills, that inspire innovation, and that foster well-rounded life capabilities including self-confidence, communication, and leadership.'
"What Dean (Kamen) has created here is incredible – robots and their humans competing against other teams, yet cooperating with, and helping other teams through Gracious Professionalism," stated Altman. FIRST Robotics teams form alliances for final rounds. Both high and low-scoring teams can be crucial to an alliance because of a particular skill set. "What I love about the format is that every team has a strength that contributes to the success of the alliance." he added.
ABOUT GLOBAFONE:
GlobaFone of Portsmouth, NH is an award-winning, leading service provider of satellite phone solutions to Federal, State and Local Governments, as well as corporate clients. GlobaFone's solutions include five brands of satellite communications – Iridium, Inmarsat, Globalstar, Thuraya and VSAT as well as cellular service for lease with roaming in over 200 countries as and local cellular service in dozens of countries. For more information please visit http://www.globafone.com
###