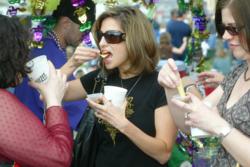 Jousting knights, colorful wildflowers, live jazz and salsa tasting aren't things that you could experience in any ordinary weekend. But, a trip to Sunny Arizona from April 1-3 would be anything but ordinary.
Tempe, AZ (Vocus/PRWEB) March 10, 2011
Jousting knights, colorful wildflowers, live jazz and salsa tasting aren't things that you could experience in any ordinary weekend. But, a trip to Sunny Arizona from April 1-3 would be anything but ordinary.
The Sunny Arizona cities, Apache Junction, Chandler, Mesa and Tempe, share more than just city borders. This spring, these cities host entertaining events that are perfect for the whole family in one affordable, fun-filled destination.
The first weekend in April is a showcase of some of Sunny Arizona's best annual festivals. For information about these and more happenings in Sunny Arizona, go to http://www.VisitSunnyAZ.com.
Desert in Bloom
Wildflowers pave Sunny Arizona's hiking trails and the surrounding desert overflows with hues of red, purple, orange, yellow and blue. At Usery Mountain Regional Park in Mesa, seasonal activities such as wildflower walks, guest lectures, and photography outings are scheduled throughout the month of April for travelers on a quest to catch some blooms. Families especially enjoy the toddler cruises and animal hide-and-seek adventures arranged by Ranger B and his crew.
Visitors can also experience the colorful, blooming desert in Tempe's Papago Park and along the scenic Apache Trail.
Arizona Renaissance Festival
Taking place every Saturday and Sunday through April 3, the Arizona Renaissance Festival is one of the most interactive entertainment events ever created. Enjoy non-stop entertainment presented on 12 stages every event day. There is comedy, music, dancing, circus performers, jousting knights on horseback and much more. Sit back and relax or become a part of the action as you are surrounded by more than 500 costumed characters roaming the festival village. The village marketplace has more than 200 elaborately adorned shops offering an array of goods. Find unique hand made items such as blown glass, premium leather goods and jewelry. And, satisfy your tastebuds and enjoy the royal treatment with five courses of food and ample drink at the Pleasure Feast. Limited seating twice daily makes this the most exclusive event at the Festival.
Chandler Jazz Festival
The 12th Annual Chandler Jazz Festival will be held in Downtown Chandler, April 1-2, 2011. Jazz enthusiasts will enjoy a spectacular weekend of wonderful music in a variety of indoor and outdoor venues. Visitors may stroll between art galleries, trendy shops and award-winning restaurants in downtown while enjoying the numerous free jazz performances. Attendees are welcome to bring blankets and lawn chairs to enjoy the outdoor concerts.
MACFest & Museums
Visitors to Mesa will want to take in the arts as part of MACFest, short for Mesa Arts and Culture Festival. This free event is held on Main Street in downtown Mesa and takes place every Saturday from October through April 2011. Held from 10 a.m. to 4 p.m., guests can purchase handmade creations from artists while enjoying live music and entertainment.
Adding to the free event-filled weekend in Mesa is complimentary admission to all downtown museums. On the first Sunday of each month visitors to Downtown Mesa can enjoy three museums for free –all of them within walking distance of each other. Sponsored by Target, the 3 for Free event on Sun., April 3 will include admission to Mesa Contemporary Arts, Arizona Museum for Youth and Arizona Museum of Natural History.
My Nana's Best Tasting Salsa Challenge
Salsa lovers will be in their element at My Nana's Best Tasting Salsa Challenge on April 2 at Tempe Beach Park. This fun-filled day features amateurs and professionals competing to make the best salsa in their category, while festival attendees enjoy all the chips and salsa they can eat! Competitors prepare more than 100 fresh salsas on-site in either the mild or hot category. During the Cazadores Margarita Mix-Off, bartenders will show off their talents to win the best Margarita prize. And, for kids, there will be a Funzone, with interactive games, including multiple bounce houses and laser tag. Tickets are just $10 and kids under 12 are free.
Sunny Arizona is easily accessible from Phoenix Sky Harbor International Airport or Phoenix-Mesa Gateway Airport. For more information about what to see and do, visit the Sunny Arizona Web site or call 800-283-6734.
About Sunny Arizona
Sunny Arizona is a non-profit organization devoted to marketing Apache Junction, Chandler, Mesa and Tempe, Arizona as a desirable visitor and group destination site. Sunny Arizona's mission is to also provide visitors, media professionals and meeting planners with information on hotels, restaurants, entertainment and local points of interest in Apache Junction, Chandler, Mesa and Tempe. To learn more please call 480-894-8158 or 800-283-6734 or visit us at http://www.visitsunnyaz.com.
###