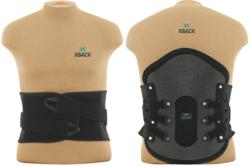 Support Doesn't Have To Be Uncomfortable. All Of Our Braces Are Designed With Patient Compliancein Mind.
Birdsboro, PA (PRWEB) March 11, 2011
We are a leading manufacturer of spine back bracing designed for patient comfort and are introducing a new comfortable back brace with PDAC and CE approvals.
Back pain is the 2nd most common reason for visits to the doctor's office. 80% of you will experience it in your lifetime, often more than once. Back bracing is an economical, conservative, 1st approach to treating accident related back pain, chronic and short duration back pain and can be an effective, non-invasive adjunct to injections, or medications. Spinal bracing is the standard in spine post-surgical treatment.
However, most back braces are uncomfortable: hot, bulky, heavy and difficult to put on and ride up when sitting or driving. Patients don't want to wear them which compromise their treatment plan. Xback has solved this compromise between support and comfort with innovative product design and materials.
The XBACK ProLift is a one piece LSO brace. The ProLift immobilizes a patient from the sacrum (tailbone) to above the T9 vertebra (mid back). The PROLIFT's unique split front panel helps center the brace and also provides a hydrostatic lift to help hold the weight of the abdomen thus reducing load on the lower spine. But more importantly, the PROLIFT is thin, lightweight, cool, and easy for patients to put on, adjust, and wear and weighs only 22 ounces. LO631 PDAC Approved
Xback Bracing Services, is a manufacturer of innovative LSO and TLSO spinal braces designed with patient comfort and compliance in mind. All our bracing is thin, lightweight, cool, easy to put on, easy to adjust support that can be comfortably worn even under most clothing. All XBack braces are made in the USA, are both PDAC and CE Approved and provide Physicians with an effective, more comfortable approach to relieving chronic back pain, providing post-operative stabilization and treating conditions of the lumbar spine.
Media Contact
Jeff Burridge
610.404.4900
http://www.XBackBrace.com
###