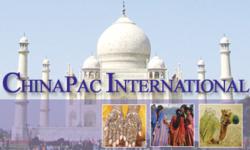 Enriching, enticing and exclusive to the ladies India tour
Vancouver, BC (Vocus/PRWEB) March 10, 2011
Chinapac International, premier specialist in China & the Orient since 1985, is thrilled to announce an enriching, enticing and exclusive Ladies Only India Tour.
Be enlightened by India's mystique characteristics in this exclusive 19 Day Ladies Only India tour. Its efficiently planned itinerary features more than just visits to the country's world famous sites like the Taj Mahal, but also offers a glimpse into India's cultural, historical and architectural diversity. The program covers 11 distinct Indian towns where travelers can experience first-hand its unique traits as they sojourn in each city. Furthermore, the tour's exclusivity to women allows for a more rejuvenating experience out of this truly exotic destination.
"I have had female clients asking about travelling to India but were hesitant to travel by themselves because they were concerned about their safety and were not fully aware of the customs in India," Chinapac International President, Jenny Soares, commented. "Generally speaking, India poses few problems for women travelers but with this tour we have ensured that our clients are well taken care of on this trip. We have arranged quality hotels and meals on this tour with some female themed activities such as Sari Tying Experience, cooking demonstrations, and learning how textile is woven."
The tour will commence where the Indian tradition and modernity mesh: Delhi. Participants will embark on guided sightseeing tours of both Old and New Delhi, visiting landmarks such as Red Fort & Jama Masjin in Old Delhi, and the President's House & India Gate in New Delhi. Guests will then fly to Varanasi, the oldest and holiest city in India, where a spiritual boat ride on the holy Ganges River and saree tying lessons are among the highlights. Following a 3 day stay in Varanasi is Khajuraho, where the participating females take on a guided tour to medieval Hindu & Jain temples and intriguing erotic stone sculptures before boarding the Shatabdi express train to Agra. A visit to Taj Mahal and the abandoned capital of Emperor Akbar, Fatehpur Sikri, will also be scheduled. In addition, the women will be treated to a cooking demonstration followed by a sumptious local dinner.
Guests will continue by road to the pink city of Jaipur for its remarkable crafts, structures and colorful bazaars, plus a journey uphill to Amber Fort via a thrilling elephant ride. After, they will transfer to the city of Bikaner and discover its artistically carved forts and palaces before heading to Jaisalmer for a sand dunes expedition by means of a local camel ride. Excursions to Meharangarh Fort, Moti & Phool Mahal, Jaswant Thada and Umaid Public Gardens in Jodhpur, the Jagdish Temple, Fateh Sagar Lake, Sahelion Ki Bari and a boat ride on Lake Pichola in Udaipur are also some highlights inclusive of the tour. Subsequently, the participating women will engage in a guided tour of Mumbai city visiting Marine Drive, Gateway of India, Hanging Gardens and the Prince of Wales Museum before travelling south to Goa aboard the Konkan Express Train whilst enjoying picturesque sceneries along the Konkan route. The combination of historic ambience, welcoming beaches and tropical weather in this tiny coastal state is befitting for spending time leisurely by the shore or immersing in the region's vibrant culture that exhibits the early influence of the Portuguese - two perfect options to conclude this India tour.
The 19 Day Ladies Only India Tour land package is scheduled to depart on February 6, 2012 at $4099. Airfares may also be purchased at low rates through Chinapac International. For more information, visit http://www.chinapac.com
Chinapac International specializes in travel service to China and the Orient and is proud to celebrate 26 successful years in the travel industry as the premier travel package tour operator to the People's Republic of China and South East Asia.
###