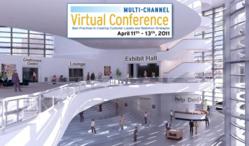 (Vocus/PRWEB) March 10, 2011
Learn from multi-channel and social media experts, share best practices …and be the grand prize winner in the Twitter Challenge at the CRMXchange Multi-Channel Virtual Conference April 11-13.
It's easy…Here's how.
Tweet friends and associates about the conference, which will focus on the major challenges faced by customer care professionals in managing the various customer touch points within their organization.
Tell them about the conference. Every week send a new Tweet. The more Tweets sent, the greater the chance to win the grand prize. We've made it easy. Registrants will find suggested Tweets and a schedule on the conference site.
Attend the pre-show reception in the virtual lounge on April 11th, chat about business issues, and be instantly eligible to win a fabulous flip camera. And, there are even more chances to win valuable prizes - just visit the exhibitors in the virtual exhibit hall.
The Multi-Channel Contact Center Virtual Conference: It's everything you need to know, with no travel costs or time lost out of the office.
Industry experts on the integration of multiple channels will offer unique insights, answer questions and provide a wealth of ideas. Sheryl Kingstone of the Yankee Group will deliver the keynote speech focusing on formulating a multi-channel strategy and plan. Elaine Cascio, Vanguard Communications; and Don Van Doren, UniComm Consulting, will be joined by a host of sponsors and vendors including Avaya, Raytheon BBN Technologies, Siemens Enterprise Communications and USAN.
Key presentations will focus on who owns the channels, cultural issues, getting organizational buy-in for a seamless channel strategy; best practices for implementing and managing the multi-channel customer experience; and supporting customer interaction strategies with innovative technology.
Visit ecrmevents.com for complete a conference agenda and registration details.
As with all CRMXchange virtual events, this conference is fully interactive; and businesses can invite all customer care professionals within an organization to participate, a benefit that would be unrealistic to achieve for an on-site conference. All sessions will be recorded and available on demand for 14 days following the conference, giving those who are unable to attend the opportunity to view the missed sessions.
To participate in this dynamic, interactive conference, contact Larry Matte or Sheri Greenhaus at (201)-505-1743.
###