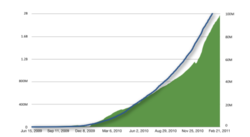 As of March 2011, Urban Airship has delivered more than 2.3 billion push notifications to more than 100 million unique mobile devices.
Portland, Oregon (Vocus/PRWEB) March 10, 2011
Urban Airship, provider of a mobile services platform that helps apps retain user engagement and increase profitability, released market data today pointing to sustained and explosive growth in mobile app services, including messaging, transactions and subscriptions. The number of messages sent via push notification on the Urban Airship platform increased by more than 1.5 thousand percent (1,555%) year over year, evidence that users are increasingly opting-in to receive their news, information, social communications, game scores and messages in real-time via their mobile apps. To date, Urban Airship is connected to more than 100 million active devices.
The company also named some of its newest customers, who are integrating the mobile services platform to add push notifications, in-app purchase, subscriptions and reporting capabilities into their apps to increase user engagement and develop revenues from their mobile strategies.
Urban Airship collected and analyzed the following numbers from anonymous data aggregated from the roughly 10 thousand active apps running on its system:

Year over year, the number of notifications Urban Airship has delivered has increased from 145 million to 2.4 billion, a growth rate of 1.5 thousand percent (1,555%).
As of March 3, 2011, Urban Airship has delivered more than 2.3 billion push notifications across the iOS, BlackBerry and Android platforms.
Urban Airship delivers, on average, 8.5 million push notifications every day.
Urban Airship has authenticated and delivered more than 2.4 million transactions via in-app purchase.
Customers make an average of eight thousand in-app purchase transactions per day.
Subscriptions are one of the fastest areas of growth for the company. Urban Airship delivers paid content to more than 271 thousand unique users, who subscribe to iPad and iPhone versions of their media publications, including Newsweek, the Daily Mail and the Guardian.
More than 100 million mobile devices are connected to the Urban Airship platform.
"If this growth continues at this furious pace, then mobile is going to blow up way bigger—and much more quickly—than anyone has predicted," says Scott Kveton, CEO of Urban Airship, who notes that in-app purchase, in which app users click to buy from within the app, is not yet available on the Android platform. "When Android comes online with in-app, we're going to see these numbers skyrocket." The company has previously announced its support for Android in-app purchase and is currently offering a beta program.
A Sampling of Urban Airship's New Customers:

Urban Airship at SXSW
Urban Airship will have a presence, both in-app and in real life, at SXSW interactive in Austin, Texas for the annual tech industry gathering. Its push notifications platform is embedded in the official SXSW GO app. The Urban Airship team in Austin—Kveton included—will be on-hand to discuss mobile industry growth, share its latest data and provide real-life examples of how its companies are leveraging the unique properties of mobile to attain success with their apps.
Urban Airship is one of several companies, including True Ventures, hosting a Texas-SteamPunk –style party celebrating local music, technology and the art and craft of burlesque. http://www.bigbangbordello.com
Supporting Resources:

About Urban Airship
Urban Airship powers the world's most successful mobile apps. Providing breakthrough technology, Urban Airship makes mobile marketing far more engaging, effective, and efficient. Top brands depend on Urban Airship to ensure their mobile app initiatives are scalable and profitable. Verizon, Dictionary.com, Living Social, Tapulous, and Warner Bros. are just a few of the thousands of companies that utilize Urban Airship's innovative platform to reach and engage target audiences and increase app revenue streams through push notification, rich messaging, in-app purchase, subscriptions and data tracking. The venture-backed company is based in Portland, Oregon.
# # #