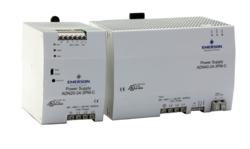 Carlsbad, CA (Vocus/PRWEB) March 10, 2011
Two new ultra compact 24 Vdc output DIN rail mounting ac-dc power supplies, featuring direct operation from three-phase inputs, are today announced by Emerson Network Power - a business of Emerson and the global leader in enabling Business-Critical Continuity™. The new ADN-C series three-phase DIN rail mounting power supplies are ideal for a wide range of heavy duty industrial applications – especially those involving large inductive loads – including machine control, semiconductor fabrication, conveyor and material handling systems.
Designed to operate direct from standard three-phase inputs, the new Emerson Network Power ADN-C series power supplies have a wide 320 to 540 Vac input range, capable of accommodating virtually all standard line voltages worldwide. They are also capable of operating from a dc input, in the range 450 to 760 Vdc. The power supplies are very high efficiency designs – typically 94 percent – and also employ advanced active power factor correction techniques to further maximize efficiency and help minimize running costs. They can accommodate phase loss, automatically shutting down if thermal thresholds are exceeded under this condition.
Both of the new ADN-C series power supplies produce a single 24 Vdc output, which is user adjustable up to 28 Vdc. The output is tightly regulated to within plus or minus 2 percent for all normal line, load and temperature conditions, and ripple is held to less than 100 mVpp. The ADN20-24-3PM-C is rated at 480 W and the ADN40-24-3PM-C at 960 W – the power supplies can deliver up to 20 A and 40 A respectively. Each power supply can also easily be paralleled for higher current operation using a front panel switch; the ADN40-24-3PM-C uses active current balancing to ensure load equality and maximum efficiency.
A PowerBoost facility overcomes the disadvantage of output fold-over under the high peak current demands of switching large inductive loads, such as heavy duty relays, solenoids or motors. This can result in the device failing to activate or start. PowerBoost provides 1.5 times the supply's nominal current for a minimum of 4 seconds, while maintaining a 20 V output to ensure successful operation.
Emerson Network Power ADN-C power supplies are industrial-grade designs, housed in rugged IP20-rated metal cases. A patented metal clip allows fast and secure snap-on DIN rail mounting, without tools. All electrical connections are made via easily accessible front panel screw terminals. Both three-phase power supplies have exceptionally slim form factors – the 20 A model has a width of 3.3 inches (85 mm), while the 40 A model has a width of 7 inches (180 mm). Compared to their predecessors, these power supplies are much more compact; the 20 A supply is 2.6 inches (65 mm) narrower and 1.1 lb (500 g) lighter, while the 40 A model shaves 4 inches (100 mm) off the width and 1.3 lb (600 g) off the weight. Depending on system configuration, this can save as much as 45 percent valuable DIN rail space, conveying significant layout and wiring flexibility – and often enabling further function modules to be accommodated on the same DIN rail.
The power supplies have a nominal full load operating temperature range of minus 25 to 60 degrees Celsius without derating, and are intended for fanless convection cooling. They are extensively protected against overvoltage, overload and continuous short-circuit conditions, and have a power-back immunity of more than 35 V. Front panel LED diagnostic indicators continuously monitor eight separate input, output and alarm conditions, instantly showing any change of status. A 'DC OK' relay output is also provided, for remote diagnostics and condition monitoring purposes.
Emerson Network Power ADN-C power supplies meet all applicable international EMC emission and immunity standards – including the Semi F47 sag immunity standard for semiconductor fabrication equipment. The designs also comply with the EN 60950 Low Voltage Directive and the Restriction of Hazardous Substances (RoHS). Comprehensive safety approvals include UL 508 and UL/IEC 60950-1. The power supplies are additionally approved for use in Class 1, Div 2 hazardous locations.
Emerson Network Power's ADN-C series three-phase power supplies are expressly designed for reliability and have a demonstrated mean time between failure (MTBF) of 450,000 hours, and are backed by a comprehensive five year warranty.
For additional information, visit http://www.powerconversion.com/products/websheet/440/ADN-C-Din-Rail-Three-phase
A high resolution photo of the new ADN-C series is available at http://www.powerconversion.com/assets/1298935857-st.jpg
About Emerson Network Power
Emerson Network Power, a business of Emerson, is the global leader in enabling Business-Critical Continuity™ from grid to chip for telecommunication networks, data centers, health care and industrial facilities. Emerson Network Power provides innovative solutions and expertise in areas including AC and DC power and precision cooling systems, embedded computing and power, integrated racks and enclosures, power switching and controls, infrastructure management, and connectivity. All solutions are supported globally by local Emerson Network Power service technicians. For more information on Emerson Network Power's embedded power products and services for original equipment manufacturers and system integrators visit http://www.Emerson.com/EmbeddedPower. Learn more about Emerson Network Power products and services at http://www.EmersonNetworkPower.com.
About Emerson
Emerson, based in St. Louis, Missouri (USA), is a global leader in bringing technology and engineering together to provide innovative solutions for customers in industrial, commercial, and consumer markets through its network power, process management, industrial automation, climate technologies, and tools and storage businesses. Sales in fiscal 2010 were $21 billion. For more information, visit http://www.Emerson.com.
Business-Critical Continuity, Emerson Network Power and the Emerson Network Power logo are trademarks and service marks of Emerson Electric Co. PICMG is a registered trademark of the PCI Industrial Computer Manufacturers Group. All other product or service names are the property of their respective owners. © 2011 Emerson Electric Co.
###