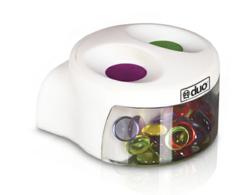 The Smithsonian is delighted to be working with Discovery Bay Games
Seattle, WA (PRWEB) March 09, 2011
Discovery Bay Games is excited to announce a licensing relationship with the Smithsonian Institution, America's national educational facility with 19 museums, 9 research centers and over 160 affiliate museums around the world. The new line of Smithsonian products by Discovery Bay Games will include board and card games, activity kits, puzzles, and digital game apps.
For 2011, Discovery Bay Games will launch the following products:

Smithsonian Artifact or Fiction trivia-based App (April 2011) – this App will work with the Duo™, the first integrated toy product for iPad
Smithsonian Artifact or Fiction board game (Fall 2011)
Smithsonian Mission Museum: The Case of the Missing Mummy, a mystery-based board game (Fall 2011)
Three jigsaw puzzles (Fall 2011)
The Smithsonian Artifact or Fiction trivia App will work with the Duo device to turn your iPad into a fun, round-the-table "board game" experience.  The goal of this game is to determine the correct answer to questions such as "What did Abraham Lincoln store in his top hat?" and "What does North America's horned lizard squirt from its eyes?" The question and two possible answers are displayed on the iPad screen and players make their guesses by placing a colored token into the corresponding slot on the Duo. After all guesses are made, the answer is revealed and the top of the Duo spins, "banking" tokens for all correct guesses.
"We're incredibly excited to have access to content and material from the world's largest museum complex," said Craig Olson, CEO of Discovery Bay Games. "This new line of products will be entertaining, educational, and fun for the whole family." 
"The Smithsonian is delighted to be working with Discovery Bay Games," said Carol LeBlanc, Director of Consumer Products for Smithsonian Enterprises.  "Together, we will be developing a variety of games that not only promote families playing together, but also promote learning in a fun, exciting way.  Through these games the Smithsonian is able to pass along knowledge about its collections and research, which is ultimately our mission."
About Smithsonian Institution
The Smithsonian Institution is the world's largest museum and research complex with 19 museums and galleries and the National Zoological Park, and research facilities around the world. For more information, visit http://www.si.edu.
About Discovery Bay Games
Based in Seattle, Wash., Discovery Bay Games makes award-winning and innovative games, puzzles, apps and tablet game accessories that suit all ages and interests. The company's mission is to bring friends and families together to play, laugh, and interact. Discovery Bay is led by experienced game developers and professionals from a bevy of game companies including Cranium, Mattel, Screenlife, and Wizards of the Coast. In addition to developing original content, Discovery Bay partners with internationally recognized brands and licensors such as Broadway Video/Saturday Night Live, The Smithsonian Institution, Highlights For Children, Ringling Brothers and Barnum & Bailey Circus, GALLOP! picture books, Norman Rockwell, University of Oxford, and many more. For more information, visit http://www.discoverybaygames.com.
Media contact
Natalie Dent
Director of PR / Discovery Bay Games
Office: (206) 547-1441 / Cell: (206) 605-1802
Email: natalie(at)discoverybaygames(dot)com
# # #