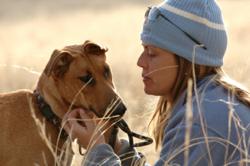 We have spent several years looking for an insurance program to fit the vision of our organization and the needs of our members.
Kanab, UT (Vocus/PRWEB) March 11, 2011
Pet parents have a new option – Best Friends Pet Insurance -- for insuring their dogs and cats through an exciting new partnership between Best Friends Animal Society® and Pethealth Inc.
A strategic agreement between PetHealth Inc. and Best Friends Animal Society creates the new insurance program for family pets offering a full- line of pet health insurance packages covering accidents and unexpected illnesses, including hereditary conditions, for dogs and cats.
Pethealth Inc. is the second largest provider of pet health insurance in North America, and the leading provider of management software and RFID microchip technology to animal welfare organizations in North America.
Best Friends is a leading companion animal welfare organization with a variety of programs designed to bring about a time when there are No More Homeless Pets®. Best Friends operates the largest companion animal sanctuary in the United States, and issues the Best Friends magazine with a combined network of over 250,000 members and subscribers.
"We have spent several years looking for an insurance program to fit the vision of our organization and the needs of our members," says Gregory Castle, chief executive officer of Best Friends Animal Society. "We are very pleased with this program and look forward to a long, mutually beneficial partnership."
Best Friends Insurance will be a line of "sliding-deductible" programs, allowing clients to choose lower monthly premiums by increasing their deductible. Pethealth was the first pet insurance company in North America to offer a sliding deductible, a feature it introduced in 2007. Tying into the charitable endeavors of Best Friends, a portion of every premium paid for a Best Friends Insurance policy will help support the life-saving work of the organization. Policies will be offered to the Best Friends members and supporters, readers of Best Friends Magazine and visitors to the Best Friends website.
"We are extremely proud of the insurance program we've developed alongside Best Friends," says Mark Warren, President and CEO of Pethealth, Inc. "It is both an honor and a pleasure to be working with such a dedicated organization and we value the trust they've placed in Pethealth."
Features of Best Friends Insurance include:

Three-year partnership with Pethealth Inc.
One comprehensive, all accidents, all illnesses, blanket limit of insurance policy.
$10,000 coverage per accident, $10,000 illness lifetime,
Coverage includes all hereditary or congenital conditions, no breed-specific exclusions
No territorial rating factors.
Rates do not increase with pet's age
No age limits to enroll, senior pets welcomed
Simple, easy, only one decision to make, choose your deductible, rates are very competitive.
In addition to underwriting the Best Friends private-label insurance, Pethealth Inc. will also become the exclusive provider of microchips to Best Friends through its 24PetWatch microchip program. In 2010, Best Friends microchipped thousands of adoptable pets and provided thousands more to community outreach programs through its initiatives to help reunite lost pets with their families.
Best Friends Pet Insurance will be available for free quotes and purchase online at http://www.insurebestfriends.com or by phone at 1-877-218-0409, with discounts available for volunteers and staff in animal welfare.
About Best Friends Animal Society®
Best Friends Animal Society is a nonprofit organization building no-kill programs and partnerships that will bring about a day when there are No More Homeless Pets®. The society's leading initiatives in animal care and community programs are coordinated from its Kanab, Utah, headquarters, the country's largest no-kill sanctuary. This work is made possible by the personal and financial support of a grassroots network of supporters and community partners across the nation.
To become a fan of Best Friends Animal Society on Facebook go to: http://www.facebook.com/bestfriendsanimalsociety
Follow Best Friends on Twitter: http://twitter.com/BFAS
About Pethealth Inc.
Pethealth is a leading provider of companion animal services in North America. In addition, the Company is the leading provider of management software to North American animal welfare organizations through its SaaS-based application and is the leading provider of pet related database management services to the North American companion animal industry. Pethealth offers a unique range of products and services for veterinarians, shelters and pet owners through a number of wholly owned subsidiaries using a range of brand names including PetCare, 24PetWatch, Pet Protect, Petpals Direct, ShelterCare, PetPoint, Petango.com and ThePetangoStore.com.
Pethealth is based in Oakville, Ontario. To find out more about Pethealth, visit the web site at http://www.pethealthinc.com.
# # #