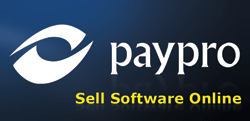 The new European warehouse will help expand the market for PayPro's vendors
Toronto, Canada (Vocus/PRWEB) March 10, 2011
PayPro Global, an international eCommerce solution provider offering innovative tools and services to sell software online, today announced that it has expanded product delivery services by opening a new production and fulfillment center in Europe. The new center will accelerate product delivery for European customers and exceed their expectations for on-time and quality shipping services.
Order fulfillment services are a crucial point for PayPro Global, known for optimized order pages and delivering the best purchasing experience to consumers worldwide. By opening a European warehouse PayPro Global will be able to bring a new level of shipping service to customers, letting them use purchased products at their absolute earliest.
Backup CD/DVDs that accompany digital products are frequently purchased through PayPro's eCommerce platform by customers who want to protect themselves from system crashes, quickly install a product on a different computer, or reinstall a product in the event of an operating system issue.
"The new European warehouse will help expand the market for PayPro's vendors, offer them more ways to successfully sell software online, let consumers easily access software they are looking for and deliver it to them the way they prefer," said Matthew Silverman, CEO of PayPro Global. "We are thrilled to add even more value to our services."
About PayPro Global
Founded in 2006, PayPro Global, Inc. develops and hosts an eCommerce solution that allows anyone to easily sell software online. PayPro Global supports more than one hundred currencies, all major credit and debit cards, and a wide variety of payment options. The company also offers software developers state-of-the-art licensing, activation, and anti-piracy protection for their applications.
PayPro Global is headquartered in Toronto, Canada, with development centers in Ramat Gan, Israel and Lugansk, Ukraine, and regional offices in Milwaukee, USA, and London, UK.
Web site: http://www.payproglobal.com
Contact
Matthew Silverman, CEO
PayPro Global, Inc.
Suite 1117
250 The East Mall
Toronto, Ontario
M9B 6L3
Canada
Phone: +1-646-873-6857
# # #