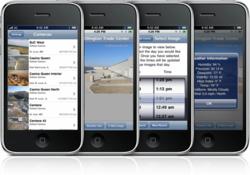 Atlanta, GA (Vocus/PRWEB) March 15, 2011
OxBlue, the leading high-resolution construction web cam service provider, announced the release of their new OxBlue iPhone/iPad application, which is now available free through the Apple® App Store.
Project managers, owners, developers and architects now have the ability to view their jobsites 24/7 using the new OxBlue Camera Viewer application. This allows the client to view their OxBlue Construction cameras on Apple's iPhone or iPad device.
Features include:

Dashboard access to all active and completed jobsites
Pan and Zoom to view high-resolution camera images
Calendar control to view any image at any time during the project
Viewing of current site weather conditions
The ability to share jobsite photos via e-mail
This is just another way OxBlue is helping clients better communicate their project status.
According to John Moebes, Director of Construction at Crate & Barrel, "The ipad and iphone apps dramatically increase our ability to find those updates when we are not at desktops or saddled with a laptop. In addition, these tools are sharing hubs and make us want to show people what we are experiencing like no other tool did before."
Just click the App Store icon on your phone, put in OxBlue and install the app directly onto your device.
OxBlue is a leading construction-camera service provider; supplying owners and contractors with the hardware, connectivity and expertise to enable anywhere-anytime access to their jobsite through high-resolution construction webcam images. OxBlue services numerous Fortune 500 companies, including over 100 of ENR's Top 400 Contractors.
Founded in 2001 by construction technology professionals, the company remains focused on its core goal: to deliver rugged, reliable and easy-to-use construction camera services that help clients better communicate their project status and document the entire project.
For more information, visit http://www.oxblue.com
###