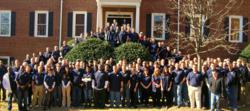 "As Security attacks on businesses and government systems are increasing, having a firm understanding of information security is essential", said Rich Rodgers, Pres & CEO of CED Solutions
Atlanta, GA (Vocus/PRWEB) March 12, 2011
Businesses make substantial investments in information assets, including technology, architecture, and processes. These assets are protected on the strengths of the professionals in charge.
Industry standards, ethics and certification of IS professionals becomes critical to ensuring that higher standards for security are achieved. Training for the CISSP exam covers all ten domains of the Common Body of Knowledge.
This course should be attended by network and firewall administrators, information security officers, and anyone interested in understanding the principles, best practices, and core concepts of information systems security.
Course Overview
CED Solutions' CISSP training is an advanced course designed to meet the high demands of the information security industry by preparing students for the Certified Information Systems Security Professional (CISSP) exam. This certification is managed by the internationally recognized and highly prestigious International Information Systems Security Certifications Consortium ISC.
The exam covers ISC's ten domains from the Common Body of Knowledge (CBK), encompassing the whole of information security. The exam consists of 250 multiple-choice questions. Candidates have up to 6 hours to complete the examination.
Course materials reflect the latest information system security issues, concerns, and countermeasures.
•Discusses all ten domains of Common Body of Knowledge (CBK), helping to prepare for the CISSP exam.
•The CBK is the compilation and distillation of all information systems security material collected internationally of relevance to information system security professionals.
•Ensures information system security professionals have an opportunity to review the CBK in-depth, in preparation for the certification examination and to stay current on the ever-evolving domains within the information system security field.
•Presents a high-level review of the main topics
•Identifies specific areas students should study for exam preparation
•Provides an overview of the scope of the field
The upcoming dates of April 25th to April 30th are available for enrollment.
CED Solutions is the #1 location in North America for Microsoft Certifications.
# # #