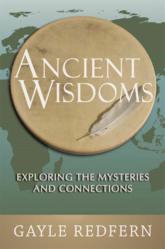 "With all things and in all things we are relatives."
Pitt Meadows, BC (Vocus/PRWEB) March 15, 2011
We will understand our future only if we understand our past. In her new book, Ancient Wisdoms: Exploring the Mysteries and Connections, author Gayle Redfern teaches humility and preservation for Earth through the lessons of our ancestors from 15,000 years ago by merging the knowledge of the ancient civilizations with the technology of today.
"With all things and in all things we are relatives," says Redfern. "We take nothing we do not need, we waste nothing, we offer thanks for everything we do take."
As an intuitive psychic, Redfern is extremely in touch with her spirit guides. A few years ago they encouraged her to re-examine her studies of the teachings and guidelines of indigenous cultures which led her to a universal 'philosophy of life' that applies to all humanity. The natives knew how to live and replace all the gifts they took from Earth. Redfern writes:
These spirit friends gently remind me that modern society forget these teachings, trying to create a blend that in their opinion excels the wisdom of ancient ancestors and the indigenous of their lands.
Ancient Wisdoms stresses the need to apply the ancient wisdoms of the indigenous people to daily life and find balance of mind, body and spirit. Today, many tend to look toward future, but looking to the past can also shed light on spiritual enlightenment. The author stresses that the Earth has taken care of us for thousands of years and it is now time for us to take care of the Earth.
What Midwest Book Review saying about Ancient Wisdoms in a five-star review:
Humanity in its most base form has not changed much in the tens of thousands of years in its existence. Ancient Wisdoms: Exploring the Mysteries and Connections looks at the ancient history of mankind and how it has led up to what we are today. Spiritual, profound with plenty of interesting topics in history discussed, Gayle Redfern does well in presenting a thought provoking read, making "Ancient Wisdoms" a read that should not be missed.
For more information, please visit http://www.livingwholistically.com.
About the Author: Gayle Redfern has had a lifelong enthusiasm for all things spiritual. She has a bachelor's in psychology and a master's in holistic health. A talented intuitive psychic focusing on channeling, psychic readings and alternate health for over 30 years with inspiration from her spirit guides. Redfern has 15 years of experience as a motivational speaker and has been involved in Toastmasters International and was Toastmaster of year in 1986. Redfern is also the author of Inner Bridges, Ayurveda Demystified and Within & Beyond.
# # #