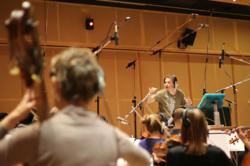 To be asked to score this movie, when half of Hollywood was up for it, is a real compliment.
(Vocus/PRWEB) 12 March 2011
BAFTA award-winning composer Paul Leonard-Morgan has just completed work on the soundtrack for the new Robert de Niro movie, 'Limitless'", which premieres in New York on 8th March, with US release date 18th March, and worldwide release on 23rd March.
The past 6 weeks have been spent solidly on the new film score, which Leonard-Morgan enjoyed every minute of:
"To be asked to score this movie, when half of Hollywood was up for it, is a real compliment. After scoring some orchestral soundtracks last year, I've been working with a few bands, and have been really keen to do a really electronic score, with some orchestra over the top. The film is about a man (Bradley Cooper) who discovers a pill which allows him to access the other 80% of his brain. He becomes hugely rich and successful, but with the usual side-effects of any drug. So it was a perfect opportunity to come up with a them which gradually gets more and more twisted as he's tripping. It's not often you get a chance to do a score like that. The deadlines have been crazy on this, literally 6 weeks from my first chat to Neil (Burger, the director of the Illusionist, feat. Ed Norton) to the final orchestra recordings. I had so little sleep, I was literally chucked on a plane from Glasgow to London for the recordings, hadn't slept for 3 days. Conducted the orchestra at Air Studios, mixed it, then cab to Heathrow, where I slept the entire journey to LAX. I'm now having my Xmas holidays and it's coming up for March!"
Leonard-Morgan set up a studio in Santa Monica, Los Angeles only last year and he is already making a name for himself. He currently splits his time between Glasgow, London and LA.
Leonard-Morgan's LA studio is in the same building as songwriter Wayne Wilkins (Natasha Bedingfield, Cheryl Cole, Leona Lewis) and producer Spike, so there's always a stream of famous artists through the doors.
"It's a really buzzing environment to be working in over there. Surrounded by talented producers, song-writers means that there's often a lot of collaboration on different projects which is a great position to be in. Everybody's always got artists coming in, and playing different types of music, so it's an incredible atmosphere to be writing music. It's quite unusual in LA to have a place where film producers and directors want to visit, as they're all so busy, but everyone always wants to pop in and see me. Add in the fact that it's nearly always sunny (the studio's half a mile from the sea), it's just got a great vibe going on."
One of Paul's recent accolades was being honoured by the US Olympic Committee when chosen to compose the official US Olympic Team Anthem (previously scored by John Williams). Nominated for BAFTA last year for his work on the hit BBC series Spooks, he was also commissioned to compose the music for the official launch ceremony of The Freedom Towers, the iconic designs which will eventually replace the Twin Towers at Ground Zero.
# # #