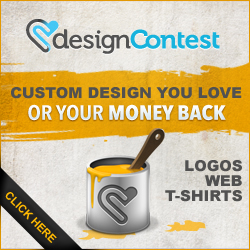 Thousands of new designers have joined DesignContest.com, making the site a premiere source for pre-qualified, talented graphic designers.
Marina Del Rey, CA (Vocus/PRWEB) March 11, 2011
Most commonly, small businesses and startups will use crowdsourcing sites as a one-time destination for affordable graphic design. However, DesignContest.com's new One-on-One Projects feature makes the site a one-stop resource for all types of design with the unique option to work directly with your favorite designer on an ongoing basis.
It can be a difficult, lengthy, and expensive process for small businesses to find a graphic design source they are happy with. Clients may scroll through many portfolios, browse websites, or even pick a name from the phone book and hire a single designer for their project – but what happens when they aren't satisfied with the designer they chose? With a single designer or even a design firm, a client is typically presented with a few design options based on their wants and needs, they may be allowed a few rounds of revisions to the concepts presented, but ultimately are stuck with whatever design is created for them.
Enter crowdsourcing. At DesignContest.com, over 23,000 pre-qualified designers have the opportunity to present their design concepts to a client based on the client's design brief. A logo contest, for example, may receive upwards of three to four hundred entries. Instead of a single designer or design firm submitting only a few design concepts, creatives from around the world present him with hundreds of options, each custom created, in hopes of winning the design contest. The client chooses the design he likes best and pays only for that one.
But, unlike other crowdsourcing sites, DesignContest.com takes the concept a step further. Once a client has found the design they like, they now have the opportunity to continue working with the designer for ongoing One-on-One Projects. According to Sergey Nekipelov, "We understand how difficult it is for many small businesses to find a designer whose creative style and design aesthetic work well with a company. DesignContest.com's goal is first, to connect our clients with the right designer for them and second, to provide the platform for them to continue working together for ongoing projects."
A feature unique to DesignContest.com, One-on-One Projects allow clients to find the perfect designer, negotiate the terms of a design project, and complete the entire process through the secure site which offers a money-back satisfaction guarantee and full-time dedicated support staff.

For more information, visit DesignContest.com or call 1-888-906-1888.
# # #