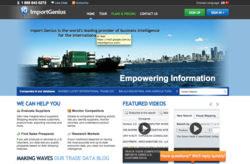 Scottsdale, AZ (PRWEB) March 12, 2011
ImportExportHelp.com, one of the web's premiere destinations for international trade content, now has even more high quality information to offer its visitors. Thanks to a new partnership with ImportGenius.com, a leading provider of international trade data, visitors to the site will be able to tap into a database of 50 million shipping manifests.
The Import Genius database shows visitors exactly what their suppliers have been shipping to other customers in the U.S. They'll also gain exceptional access to shipping records of other importers, revealing names of their suppliers, shipping volumes, product trends, and much more.
The deal between Coble International and Import Genius will allow visitors of ImportExportHelp.com to get free trial access of the database of Customs records.
The agreement between the two organizations will provide a discount on subscriptions to a vast new data service for members of ImportExportHelp.com while giving Import Genius the opportunity to reach a new audience that can benefit from its product.
"Ron Coble's informative web sites are a great jumping off point for anybody thinking about starting an import-export business," says ImportGenius.com co-founder Ryan Petersen, "We're thrilled to help his customers and web site visitors access our U.S. Customs database."
Through years of maintaining a network of excellent online resources about the international trade business, Ron Coble of ImportExportHelp.com has helped hundreds of successful businesses crack into the import-export industry for the first time.
"He's a wealth of information for small businesses starting out in importing and we're happy to be able to add to that knowledge base," adds Mr. Petersen.
About Coble International, Inc.
Coble International, Inc. founded by Ron Coble in March of 1988. It's flagship Web site, ImportExportHelp.com, provides information about worldwide business-to-business and import-export opportunities. The site is intended for companies and individuals who wish to begin exporting or expanding into new foreign markets as well as importers who are interested in obtaining products and services from other countries.
About ImportGenius.com
ImportGenius.com is a leading business intelligence provider for the international trade community. The company's shipping manifest database provide near real-time access to detailed information about all the cargo entering the United States by ocean. Importers, supply chain managers and product sourcing professionals use the service to research suppliers, track competitors and monitor industry trends.
# # #