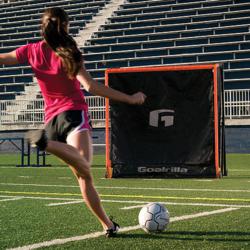 It lets athletes push themselves to their physical limits without worrying about the limits of their equipment.
Evansville, IN (Vocus/PRWEB) March 11, 2011
Goalrilla Basketball, known for decades as a leading manufacturer of durable basketball hoops for residential and institutional use, entered the Athletic Training Equipment category with the release of its new G Trainer.
This new G Trainer is designed to be a high performance training device for athletes in multiple sports with varying degrees of skill levels. The all-steel frame system of the G Trainer includes two distinct training sides: a dampening/goal side, and a rebound side. Rugged polypropylene netting is used as a dampening system for baseball, softball, football, soccer and lacrosse. A unique, five-position polyethylene rebound net makes the Goalrilla G Trainer the only adaptable system of its kind to offer pitch back and rebound training for baseball, softball, soccer, lacrosse, volleyball and, of course, basketball.
"For decades now, Goalrilla has built a reputation for durable equipment, and for dedication to the athlete," says Evan Lederman, Category Manager at Escalade Sports, the parent company of Goalrilla. "Through the years, we have been told that more athletes in more categories want the quality and durability of Goalrilla in their training." Goalrilla's reputation for uncompromising quality can be directly seen in the new G Trainer. Lederman explains the company's goal as "to bring the highest level of training to virtually every sport--the similar type of quality training and 'arena' experience that our basketball goals bring now."
Goalrilla engineers developed the G Trainer throughout 2010 by consulting coaches and athletes of each and every sport the system is designed for. The sports trainer underwent several design concepts and three physical prototypes during 10 months of development and testing. The final prototype withstood rigorous manufacturing tests including 10,000 pitches from a baseball pitching machine set at 96 miles per hour.
Lederman states that the Goalrilla G Trainer is built like all Goalrilla products. "It lets athletes push themselves to their physical limits without worrying about the limits of their equipment. We know that it takes more for an athlete to train day in and day out." He continues, "it takes more for them to endure the last minutes of a game. It takes more for them to earn a spot at the top. 'It takes more to be here' – as an athlete - it requires more from them, and more from us. Goalrilla has always been dedicated to bringing more, now we're bringing more to training athletes."
The new sports trainer can be found at authorized Goalrilla dealers, sporting goods retailers and in institutional sports equipment catalogs.
# # #