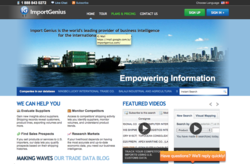 We decided to give the public greater free access to our search tools so they can get a better idea of the data we offer
(PRWEB) March 14, 2011
Want to know what factories your rivals buy their products from? Interested in checking the importing trends of public companies? Or maybe you'd like to find importers as targets your sales team?
The new ImportGenius.com, launched today, provides unprecedented public access to its database of U.S. Customs records. For the first time, the company has opened up the search tools for the service for non-subscribers, so visitors can run searches on any company to view details on their shipments entering the U.S.
The search results pages show the name of the company, a graph of their shipping history over time, and either a map of the states where they send their shipments or of the countries where they buy them. Import Genius also shows visitors a sample shipping manifest from its database of more than 52 million (and counting) collected from all the ports in the U.S.
"We decided to give the public greater free access to our search tools so they can get a better idea of the data we offer," says Import Genius co-founder Ryan Petersen. "Once people get a taste for the quality of information we provide about American importers and their suppliers, we're sure they'll want to upgrade for even more access."
The company offers its paying subscribers more powerful search tools with the ability to view shipping records for virtually everything imported into the U.S. by ocean. With clients across a broad range of industries, including importers, distributors, warehouses, trucking companies, customs brokers, banks, asset managers and overseas factories.
"We're just getting started in getting the word out to all these diverse industries that can benefit from our data," says Mr. Petersen. "The new Web site will take away some of the risk by letting people play around with our data before they commit to a subscription."
About Import Genius
ImportGenius.com is a leading provider of business intelligence to the import-export community. The company's main database product contains the shipping manifests for more than 50 million U.S. ocean freight imports dating back to 2006. By making this information searchable, Import Genius enables users to find out exactly what products any business has been importing into the U.S. and who they've been buying from overseas.
# # #