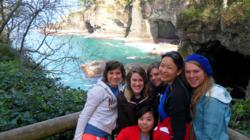 Newberg, Ore. (Vocus/PRWEB) March 11, 2011
More than 70 students and employees from George Fox University will spend their weeklong spring break serving others during the university's annual Spring Serve.
During the week of March 20-27, students will travel to Yakima, Seattle, and Neah Bay, Wash., as well as Los Angeles, to work on service projects in various cross-cultural settings.
The following are descriptions of the four trips:

A team of 12 will serve at the Flying H. Ranch, located 30 miles west of Yakima, Wash. Students on this trip will do physical labor and minister to the teens at the ranch.
A team of 12 students will serve with the Center for Student Missions (CSM) in Los Angeles. CSM partners with local churches and organizations to help meet the needs of urban communities. Students on the trip will serve others by playing with children at after-school programs and serving at homeless shelters.
A group of 24 students will go to Seattle and serve at various ministries, including Urban Impact and New Horizons Ministries. Students will do a variety of work, including working with an after-school tutoring program, helping at community events, and cleaning program sites. Students also will have the opportunity to tour New Horizons' facilities and learn about the ministry's work with runaways and prostitutes.
A group of 24 students will travel to Neah Bay, Wash., to work on the Makah Indian Reservation. Students on this trip will work to maintain and improve the environmental habitat on the reservation, which includes stream development and beach clean up. Other work will include painting, gardening, and chopping wood, along with learning about the culture and history of the Makah tribe and building relationships with the local community.
Participating students are selected through an application process. They pay part of the costs of their trips, which are subsidized by the student government. Each of the trips has a faculty, staff, or alumni leader, assisted by two undergraduate student leaders.
The trips are part of the university's commitment to Christian service, which also includes an annual day of service for which the university closes; community service projects that reach out to Newberg, Ore., and surrounding communities; and an urban services program that sends students to Portland and Salem, Ore., to build relationships with the homeless.
George Fox University is ranked by Forbes as the top Christian college in the Pacific Northwest and among the top three Christian colleges in the country. George Fox is the only Christian university in the Pacific Northwest classified by U.S. News & World Report as a first tier national university. More than 3,400 students attend classes on the university's campus in Newberg, Ore., and at teaching centers in Portland, Salem, and Redmond, Ore., and Boise, Idaho. George Fox offers bachelor's degrees in more than 40 majors, degree-completion programs for working adults, five seminary degrees, and 11 master's and doctoral degrees.
Contact:
Andrea MacLeod
Director, Outreach and Service
503-554-2323
acrensha(at)georgefox(dot)edu
###