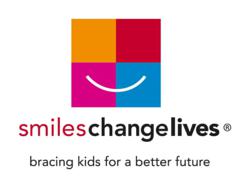 This spring break, help your child find their true smile with Smiles Change Lives.
Kansas City, MO (Vocus/PRWEB) March 11, 2011
Many teens and preteens beg their parents for a beach vacation or thrilling out-of-town trip for spring break. Some kids have a very different, albeit equally expensive request of their parents.
For many children, obtaining a healthy, attractive smile is their top demand to eliminate years of teasing and bullying by their peers. However, for many families, orthodontic treatment is financially out of reach with the average cost of braces being $5,000.
Families now have an affordable option for giving their child a healthy smile. Smiles Change Lives (SCL) is a national nonprofit organization that connects caring orthodontists with children in need. SCL is dedicated to helping working families obtain affordable orthodontic care. After the organization's national expansion in 2010, SCL has 900 immediate openings across the U.S., with a particular emphasis in these cities/regions:

Richmond, VA
Twin Cities, MN
Long Island, NY
Orlando, FL
Boston, MA
Denver, CO
St. Louis, MO
Chicago, IL
Louisville, KY
Milwaukee, WI
Northern Texas
Philadelphia, PA
New Jersey
Billings, MT
With nearly 400 orthodontic providers, and more joining each day, SCL is seeking applicants who meet the following criteria:

Ages 10-18 with good oral hygiene
With family income at or below 200% of Federal Poverty Level
With crooked teeth and/or misaligned jaws
This spring break, help your child find their true smile. Interested families may view program guidelines and download an application at http://www.smileschangelives.org/apply or by calling 816-421-4949. For more information on financial qualifications, please visit http://www.smileschangelives.org/qualify.
# # #