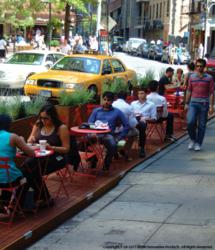 Innovative interventions like this…improve the quality of life for the thousands of people who live, work and play in Lower Manhattan.
Denver, CO (Vocus/PRWEB) March 12, 2011
Bison Innovative Products, a leading company specializing in manufacturing modular decking systems, announces its new street deck – the Bison Pop-up Park. The Pop-up Park (also known as street decks, mini-parks, Pop-up Cafés and Parklets), creates a level deck from the curb, out over parking spaces. Planters overflowing with greenery, connected by railings, creatively provide the mini-park's border. Café tables, bike racks and solar powered accent lights create an alluring and pleasant atmosphere for the community to enjoy.
Pop-up-parks support local businesses, enhance neighborhoods and create attractive community gathering areas. Because of this, retail establishments and city governments are partnering to make mini-parks a reality. Retail establishments are installing decks adjacent to their place of business to attract customers while allowing the passerby to sit and enjoy a landscaped mini-park.
Last August the City of New York installed their first Pop-up Park located in the Financial District at Pearl and Broad. "The city's first pop-up café is a great, cost-effective way to help businesses while providing much-needed seating along our crowded sidewalks," said Commissioner Janette Sadik-Khan. "Innovative interventions like this help make our streets into destinations and improve the quality of life for the thousands of people who live, work and play in Lower Manhattan."1
According to business owners who have installed them, Pop-up Parks increase sales. The Pop-Up Café in New York City is open to the general public however, was financed by the adjacent establishments: Fika coffee shop and Bombay's restaurant. According to the New York Department of Transportation, "The establishments have already reported huge increases in business in the first week since the space has been unofficially open."1
On the West coast in San Francisco, Mayor Gavin Newsom is spearheading a program called Pavement to Parks. Last March a "parklet" using the Bison Paver Pedestal Deck System was built over what were once two public parking spaces outside the popular Mojo Bicycle Café. Located on Divisadero Street, the parklet has led the owners of Mojo to report a near "30% increase in business."2
The San Francisco Parklet was also installed on a trial basis. "There was considerable debate about how to build a durable and attractive platform that wouldn't interfere with drainage and sanitation. The Department of Public Works (DPW), Planning, and the San Francisco Public Utilities Commission (PUC) landed on a solution they believe will be sturdy and safe," said the San Francisco Planning Department's Andres Power, project manager for Pavement to Parks. "The idea is essentially to build a cheaper bulbout, to get the same effect as a $100,000 [concrete] bulbout at a fraction of the funds."3
The Bison Pop-Up Park system includes everything needed to build decks on streets. Bison Wood Tiles installed over Bison's Versadjust Adjustable Deck Supports allows for the construction of a level and smooth decking surface over the uneven and sloping street. Bison Custom Cubes™ integrate with the decking system to create a landscaped border around the deck. The entire system is designed to dismantle easily for seasonal storage.
For fifteen years, Bison Innovative Products has been known from their unique decking system for rooftops and terraces. "Developing the Bison Pop-Up Park system for constructing decks on streets was seamless and logical," says Lisa von Gunten, Vice President of Bison Innovative Products. "Cities need a high-quality and attractive system that is cost effective and modular. Our Pop-Up Park system is just that." Learn more about Bison Innovative Products at http://www.bisonip.com.
1 NYC DOT Press Release: (h)ttp:// (w)ww.nyc.gov/html/dot//html/pr2010/pr10_036.shtml
2 (h)ttp://sf.streetsblog.org/2010/02/16/san-francisco-takes-parking-spaces-for-trial-sidewalk-extensions/
3 (h)ttp://sfpavementtoparks.sfplanning.org/index.htm
4 (h)ttp://archrecord.construction.com/products/productreports/default.asp
###