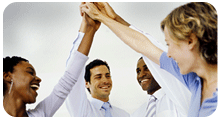 A program includes consideration of corporate goals, vision, and values that align individual achievement with behaviors consistent with delivery of the brand promise.
New Brunswick, NJ (Vocus/PRWEB) March 15, 2011
From Dittman Incentive Marketing's perspective, it's no coincidence that companies listed in the recent "Fortune Best Places to Work" outperform competitors on every important financial metric. Dittman clients are comprised of companies where the greatest asset is quality of human capital. By creating a culture of employee appreciation and recognition, companies make certain to attract, engage, and retain top talent.
Companies can create a culture of employee recognition through Dittman's enterprise-level, modular software TotalPRO (Performance Recognition Online). The software allows corporate HR and Sales leaders to conduct incentive and recognition programs across a team, department, division or enterprise. Employees receive personalized appreciation for performance improvements in areas supporting the company's vision, mission and values. Achievers can choose to redeem points earned for name-brand merchandise, tickets to sporting events or shows, travel, and gift cards.
Caring about people turns out to be good business. Provide the best conditions, benefits and recognition, and people will both understand and live the company values and communicate that message as a core component of the brand. With the economy showing signs of improvement, having a strong brand and culture of appreciation is critical to keeping top performers. In fact, a 2010 survey showed that almost 20 percent of high performers who scored low on job satisfaction indicated plans to leave that current company, a figure almost double what was reported in 2008. Consider the impact to a company's bottom line if one out of five top performers left for a new position.
Creating an award-winning culture goes beyond the occasional perk and press release. Companies must be dedicated to maximizing employee engagement. And now there are web-based solutions that allow companies to invest in an enterprise-wide platform that clearly enunciates brand values and drives all employees toward those behaviors by recognizing efforts with communications and points redeemable for a variety of rewards.
"A thoughtful system goes beyond the actual reward to recognize the continuous drivers of individual behavior and business outcomes. Remember, people spend most of their waking hours at their job. It is not only a source of livelihood, but one of relationships, knowledge, challenge, and reward," said Dave Dittman, executive vice president of Dittman Incentive Marketing, a New Brunswick company with 35 years of experience providing incentives, rewards, and recognition programs.
"Understanding the psychology of human motivation is integral to a corporation's success, and our clients focus on employee engagement to provide measurable results."
One such outstanding Dittman client is EisnerAmper, a firm recently recognized as one of the "Best Places to Work". With offices in NY, NJ, PA, and the Cayman Islands, EisnerAmper utilizes the Dittman TotalPRO® enterprise solution with modules for recognition, milestones, and bright ideas.
Said S. Hayes MacArthur, III, principal, human resources at EisnerAmper, "We have created a culture where we take time to applaud excellence and behaviors that support our firm's values."
"Organizations that buy into employee engagement learn to work collaboratively across units to find the best way to achieve long-term financial goals," said Bruce Bolger, managing director of the New York-based non-profit Enterprise Engagement Alliance.
"A program includes consideration of corporate goals, vision, and values that align individual achievement with behaviors consistent with delivery of the brand promise."
An engaged workforce is a community of individuals dedicated to making a difference. It's crucial to a successful business that this value is bolstered to create an ongoing culture of excellence. The company benefits from a ripple-effect of positive attitude and emotion that permeates the culture and extends out to customers.
Just as every person has his or her own sense of style, each person has a preference in how he or she would be recognized. A truly robust incentive, recognition, and rewards solution provides the opportunity for e-cards, leader boards, certificates, awards, and accrued points to redeem on merchandise, gift cards, travel, and event tickets.
Corporate incentives, recognition, and rewards programs exist even in small companies with 'employee of the month', a premium parking spot, or gift cards. In large corporations, the capability to measure performance improvements, track behaviors, and reward and recognize individual and teams at different levels becomes much more critical to budget and forecasting. Enterprise-wide solutions, such as TotalPRO, allow a master suite of easy-to-use tools for managers, providing critical reminders and helping to manage performance and budget allocation for years of service awards, learning, sales performance, employee milestones, safety, wellness, and many others. Employees gain satisfaction through recognition and appreciation that can be peer-based, manager-based, or a combination. And, employees derive self-confidence and motivation through the recognition earned.
###