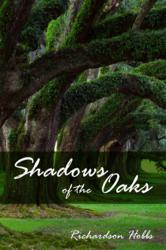 Fairhope, AL (Vocus/PRWEB) March 13, 2011
Shadows of the Oaks, a new book by Richardson Hobbs, has been released by RoseDog Books.
At twenty years of age, after her mother dies in childbirth, Margo Morgan is thrown into the role of surrogate mother to her seven siblings, including one incorrigible teenager. The tragic situation leaves her torn between her first love and loyalty to her needy family.
Then, Pearl Harbor is bombed and America joins World War II, and her young husband must face deadly combat across the Atlantic Ocean.
Margo and her family will struggle to overcome wartime tribulations, economic hardships, and an uncertain future.
Richardson Hobbs was born in Coffee County, Georgia. She is married to Lynn Hobbs of Baldwin County, Alabama, where they currently reside. They have four children: Jeffrey, Jeanne, Lenora, and Thomas (Richey).
Richardson Hobbs is an artist who enjoys working with watercolors, pen and inks, and oils. She has been active in past years in local, state, and national politics and was, for more than two years, co-host of the radio talk show "Public Forum," a political show for local politicians and citizens to express their concerns.
The author also enjoys sports, fishing, family reunions in south Georgia, and the love and devotion of a large, caring, extended family.
Shadows of the Oaks is a 590-page hardcover with a retail price of $19.00. The ISBN is 978-1-4349-8192-9. Rose Dog Books of Pittsburgh, Pennsylvania published it. For more information or to request a review copy, please visit our virtual pressroom at http://www.rosedog.com/pressroom or our online bookstore at http://www.rosedogbookstore.com
###