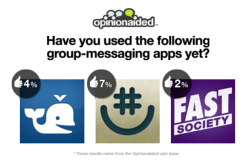 New York (Vocus/PRWEB) March 11, 2011
Today mobile real-time feedback service Opinionaided is opening its free service to companies exhibiting their products at SXSW 2011, giving anyone the opportunity to get real-time feedback from its broad base of users. Opinionaided gives users immediate and relevant feedback, delivering about a dozen responses within the first two minutes of asking a question, and for SXSW they have created a special SXSW trending topic for attendees and exhibitioners. The Opinionaided community has already given 50 million responses to over 600,000 questions and is ready to let the world determine the best of 2011 SXSW.
How Opinionaided works:
1. Anyone can download the free Opinionaided iPhone/iPad/iPod Touch application from the iTunes App Store by http://bit.ly/9aeB30, registering and answering questions from a variety of categories with a simple thumbs up or thumbs down, and the option of text comments.
2. Those wanting to ask their own question can simply chose a question and an associated image, determine the best category and demographic for it, and submit it for other users to answer. For SXSW users ask questions like "Do you use group texting apps at SXSW?" "Will you use Gowalla after the 3.0 update?" "Is Stubbs the best BBQ in Austin?"
After posing a question, users can immediately see results categorized by the percentage that responded positively or negatively as well as listing separately all the user comments. From there, consumers can reply back to the comments or create a new question for peers to vote on.
Public feedback changed Opinionaided. What will it do for you?
With a core team that has been designing for mobile and the web for over nine years, Opinionaided knows that it is hard to judge the value of a product without public feedback. In fact when they first launched their app as a tool for product decisions it was the public feedback that helped build into Opinionaided a utility that routinely returns over 150 responses to questions asked about almost any topic.
"Who really determines the winners of SXSW? How about democratizing the process?" asks CEO Dan Kurani. "It will be interesting to see if the mass market determines a different winner than traditional tech influencers."
Opinionaided is currently available for your iPhone, iPod Touch, iPad or through any web browser. The company recently announced that it had secured $1.2 million in seed funding from venture capitalists General Catalyst, SoftBank Capital, Draper Fisher Jurveston and notable angels such as Mark Wachen, Jonah Goodhart, Karl Jacob, Vince Monical and ENIAC Ventures. Opinionaided plans to use the capital to improve the user experience and expand to new mobile platforms.
Download Opinionaided now at the Apple App Store: http://bit.ly/9aeB30
About Opinionaided
Opinionaided is a free application that allows consumers to use their iPhone, iPod Touch or iPad to get advice and opinions in real-time. Users can also answer questions at http://opinionaided.com/ with more platforms coming soon.
###