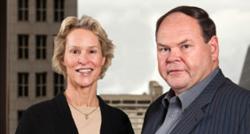 Cambridge, MA (Vocus/PRWEB) March 14, 2011
The 2011 Charles Stark Draper Prize, the nation's top engineering honor, has been awarded to Drs. Frances Arnold and Willem Stemmer for their pioneering contributions that enable researchers to guide the creation of desirable properties in proteins and cells. The prize, which includes a $500,000 award, honors engineers whose accomplishments have significantly benefited society, and is considered the Nobel Prize of engineering.
The 2011 Draper Prize was awarded by the National Academy of Engineering (NAE) on Feb. 22 as part of the annual National Engineers Week celebration in Washington, D.C.
Directed evolution synthetically harnesses the power of natural selection to evolve proteins or RNA creating desirable properties not found in nature. Most directed evolution projects seek to evolve properties that are useful to humans for agriculture, medicine, or industry by optimizing characteristics not selected for in the original organism.
Arnold and Stemmer's independent approaches to the development of directed protein evolution have helped find practical and cost effective ways to make a wide range of new and better products, including food ingredients, drugs, medical diagnostics, agricultural products, gene delivery systems, alternative energy, biofuels, and laundry aids. Their work has led to improvements in the field of medicine including better diagnostics for diseases and more powerful antibiotics and drugs to treat arthritis.
Further, their work in developing design principles for engineering complex biological systems is helping to elucidate why nature's designs work the way they do.
Arnold and Stemmer's work has contributed to the development of a number of more environmentally-friendly processes for manufacturing pharmaceuticals, chemicals and fuels.
Arnold, the Dick and Barbara Dickinson Professor of Chemical Engineering, Bioengineering, and Biochemistry at the California Institute of Technology, has the distinction of having been elected to all three membership organizations of the National Academies -- the NAE in 2000, the Institute of Medicine in 2004, and the National Academy of Sciences in 2008.
Stemmer is the chief executive of Amunix, which develops drugs with an extended serum half-life, enabling less frequent injection.
The Charles Stark Draper Prize was established and endowed by Draper Laboratory in 1988 in tribute to its founder, Dr. Charles Stark Draper, who pioneered inertial navigation and led his research laboratory at MIT into the real world where development mattered as much as research and where hands-on engineering education was critical to the development of future engineers and for the achievements of his Laboratory. It is intended to honor those who have contributed to the advancement of engineering and to improve public understanding of the importance of engineering and technology.
Draper Laboratory
Draper Laboratory is a not-for-profit, engineering research and development organization dedicated to solving critical national problems in security, space systems, biomedical systems, and energy. Core capabilities include guidance, navigation and control; miniature low power systems; highly reliable complex systems; information and decision systems; autonomous systems; biomedical and chemical systems; and secure networks and communications.
http://www.draper.com
http://www.draperprize.org
# # #