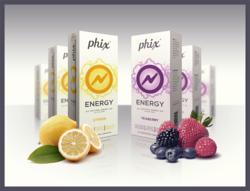 I'm excited to be teamed up with Powerhouse Baseball. These athletes are top high school baseball players so it was a natural fit for Phix to become involved
Hollywood, FLA (Vocus/PRWEB) March 14, 2011
Powerhouse Baseball (PHB) Club was established in 1999 by Coach Al Lopez in South Florida. For more than 10 years, PHB has become a staple of Florida high school summer baseball. Club players are evaluated by professional scouts and college recruiters from all over the nation during elite tournaments.
"I'm excited to be teamed up with Powerhouse Baseball. These athletes are top high school baseball players so it was a natural fit for Phix to become involved," said Doug Brown, president of Phix, Inc. "Our healthy organic energy drinks are a great source of energy and nutrients for athletes at all levels."
Phix Energy helps athletes replace electrolytes and water-soluble vitamins for optimal athletic performance and recovery. All Phix formulations are created under the direction of world-class naturopathic physicians and licensed dietitians, to insure a healthy balance of positive effects. The ingredients are 100% natural. Phix Energy and Phix Sleep work hand in hand to help athletes treat fatigue and improve athletic performance, as well. Click here for a free trial of Phix Energy.
The Phix-fueled baseball club will begin their 2011 season in May. The goal of the summer club is to get players seen and recognized to improve their chances of receiving a scholarship to a university or college or a chance to sign a professional contract. More information about the Powerhouse Baseball Club can be found at http://www.powerhousebaseballclub.com.
About Phix
Phix is dedicated to the idea that we can all live healthier and more energized lives. Phix powders are natural, vegan and gluten free.
Phix Energy is a sophisticated energy drink mix and herbal supplement blending green tea anti-oxidants, energy-restoring NADH and Yerba Maté for enhanced vigor, with added vitamins and minerals to keep you feeling healthy. Our healthy energy drinks give an immediate lift, but unlike other energy drink mix products, there are no spikes, jitters, or crashes. Phix Energy is smooth and sustained and designed to help improve your energy levels day in and day out.
# # #