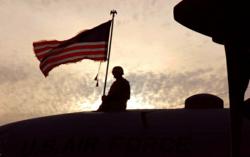 Fairfax, VA (Vocus/PRWEB) March 15, 2011
While most banks and credit unions are processing Veterans Affairs loans at a mind numbingly slow pace, the Patrick Cunningham Team at Home Savings and Trust Mortgage is averaging 25-30 days from start to finish. The current industry average is 45-60 days. "We are not only beating the industry average, but we are blowing it away by 2-4 weeks!" says Pat. This enables Veterans to buy the home of their dreams they may not have otherwise won. If a Veteran is competing with another buyer that is using cash or conventional financing, one concern sellers have is time until closing.
The team at Home Savings & Trust Mortgage eliminates that concern by not only assuring an on time close, but also a quicker settlement date than the competing buyer. This helps Pat's Veteran buyers write a more competitive contract in a Northern Virginia market that is tight on inventory right now. The reason HST Mortgage and Pat Cunningham are able to process these loans faster is their staff has over 20 years experience in VA lending, and the company underwrites all files directly out of their Fairfax office. "We are a smaller, local operation. It gives our Veterans a distinct advantage on client service and timing because we are smaller and more flexible," says Pat. The industry average with larger banks and credit unions is currently 45 to 60 days to process Veterans Affairs financing.
The Patrick Cunningham Team at Home Savings & Trust Mortgage is donating partial proceeds for each VA transaction they do to the Wounded Warrior Project. Local real estate professionals can request or schedule a VA training presentation at their office by calling (703) 766-4636 or emailing Pat's team at pcunningham (at) hstmortgage (dot) com . The presentation is called "5 ways VA lending will help you sell more homes." It enables real estate pros to be a great resource to the local veterans in purchasing or selling their home.
Veterans can schedule a phone or office appointment with Pat to discuss their goals by calling the office at (703) 766-4636 or emailing at pcunningham (at) hstmortgage (dot) com. More information about the team and their beliefs about client service can be found at http://www.pcunninghamhomeloans.com and the blog at http://www.pcunninghamblog.com.
###