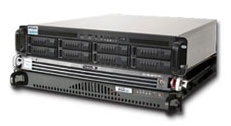 ThreatSTOP blocks "call homes" to botnets' command and control hosts to prevent data theft and other criminal activities.
San Diego, CA (PRWEB) March 13, 2011
ThreatSTOP, the leading provider of real-time IP reputation service that prevents data loss from botnet attacks and improves network performance, announced today that EdgeWave has embedded the ThreatSTOP Botnet Blocklist into EdgeWave's iPrism product. This integration enables iPrism, an award-winning web security product, to block outbound "call homes" to external command and control hosts to minimize the risk of data theft and other criminal activities associated with botnets.
To activate the botnet blocking feature, iPrism customers simply click the "ThreatSTOP" check box which eliminates the need to manually tweak reputation score thresholds or signature/pattern rules. These changes are automatically effected by ThreatSTOP's correlation engine, and the updated blocklist list is distributed to iPrism customers.
"As part of our continuing strategy to enhance our flagship product and give what our customers want, we clearly needed to have a road map and product offering to address the pervasive botnet and criminal malware problem," said Ron Kaplan, Director of Product Management at EdgeWave. "We selected ThreatSTOP because its list is comprehensive and authoritative with very low false-positives, and is updated in real-time. We needed dedicated experts who know the ins-and-outs of the botnet world, and that's why we selected ThreatSTOP."
Botnets are beginning to be widely recognized as the biggest network security threat today because: 1) they are perpetrated by sophisticated cyber criminals intent on causing great financial, reputational and productivity damage, 2) they attack organizations of all types and sizes; no one is immune, and 3) existing security tools and systems fail up to 97% of the time in detecting and blocking them. ThreatSTOP addresses this critical problem by delivering a blocklist of IP addresses of known botnet and malware sites automatically to firewalls or other edge devices (routers, switches, content filtering devices etc.) for enforcement.
"We are very pleased that EdgeWave has partnered with us to tackle the botnet problem," said Ken Liu, vice president of Business Development for ThreatSTOP. "The addition of a botnet blocking capability with the existing URL, virus, malware, spyware and phishing blocking features of iPrism enables EdgeWave to offer more value to its customers and expand its market share."
# # #