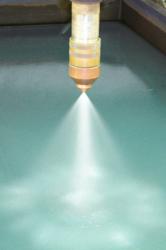 Florence, SC (Vocus/PRWEB) March 15, 2011
ESAB Welding & Cutting Products announces two new capabilities for its popular m3 Plasma™ System for metal cutting: water injection cutting and Micro Nozzle technology.
Water Injection Cutting
The m3 Plasma™ system is now available with both a shield-gas system and a new water injection cutting capability designed to significantly reduce the cost of cutting stainless steel and aluminum while improving edge quality and dross content. Water injection cutting offers cutting speeds up to 100% faster than shield-gas systems.
The water injection system is a modular addition to the m3 Plasma automatic gas control. This module allows the system to switch automatically between standard dual-gas cutting and water-injected plasma cutting on the same machine. The result is a more flexible plasma system, with a wide range of plasma capabilities and options for cutting carbon steel, stainless steel and aluminum.
The water injection module is available on new machines equipped with ESAB's m3 Plasma system or as a retrofit to existing m3 Plasma systems.
Micro Nozzle Technology
The new Micro Nozzle technology for thin materials produces extremely high quality cut edges with virtually no dross on material thicknesses down to gauge metals. This breakthrough development allows near-laser-quality plasma cutting on thinner materials, where previous plasma systems have often struggled to achieve sharp edges and high quality surfaces.
Micro Nozzle technology further extends the flexibility of m3 Plasma, making it the most capable plasma system on the market, with the widest range of cutting capabilities. Available with power sources from 200 up to 600 Amps, one m3 Plasma system can cut material from gauge thickness up to 6" thick stainless steel. Since m3 Plasma is available for a wide range of cutting gantries, ESAB Cutting Systems can offer a complete solution for virtually any plasma cutting application.
ESAB Welding & Cutting Products is one of the world's largest and most experienced manufacturers of welding and cutting equipment and welding filler metals. Recognized as the technological leader in the industry, ESAB is committed to providing cost effective solutions for its customers. For more information on cutting system solutions, visit http://www.esabna.com, http://www.esabcutting.com or call 1-800-ESAB-123.
# # #