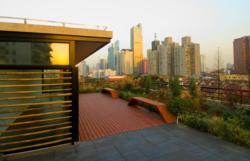 "We will offer all our guests the most sustainable restaurant in Shanghai with the freshest drinking water. Try finding that anywhere else in China!"
Shanghai, China (Vocus/PRWEB) March 15, 2011
URBN Hotel is proud to announce its partnership with sustainable water experts, Environtech (an operating brand of Hallmark Environmental Technologies, Inc). The two companies have joined forces on a very unique project which will bring clean, pure, potable tap water to all of URBN's three food and beverage outlets, including their new restaurant Downstairs with David Laris.
Environtech will provide URBN Hotel with an on-site Re:WaterTM water recycling system, which will increase the quality of water to meet or exceed the World Health Organization (WHO) drinking water standards. For the restaurant, this means all food will be washed and cooked in 100% pure water and free of heavy metals and bacteria.
Besides allowing URBN to provide an improved water quality standard in their Kitchens, the Re:WaterTM water recycling system will increase the hotel's water efficiency by up to 70%. Through the installation of Re:WaterTM water recycling system, URBN is taking the lead initiative and social responsibility to, not only clean its water, but provide sustainable, reusable water.
Hallmark Environmental Technologies, Inc. (HET) and its operating brand, Environtech, is a systems and solutions company backed by 25 years of experience in the water/wastewater industry. HET owns an exclusive and proprietary portfolio of water/wastewater systems and solutions patents. The company's proprietary patent-pending Triple "R" water recycling solution for 5-star hotels and grade A business and commercial buildings is currently being marketed and deployed under the brand Re:WaterTM.
URBN's Managing Director, Scott Barrack, is thrilled about the collaboration; "We will offer all our guests the most sustainable restaurant in Shanghai with the freshest drinking water. Try finding that anywhere else in China!"
URBN claims that its drinking water will be purer and better-tasting than the standard bottled water in Shanghai. This new water recycling system has already been deployed in the first URBN Green Hotel in Shanghai and will be deployed in other URBN establishments in 2011.
ABOUT HALLMARK ENVIRONMENTAL TECHNOLOGIES (HET)
With offices in California and Shanghai, China, Hallmark Environmental Technologies, Inc. (HET) aims to become a key provider and innovator of environmentally responsible, clean technology solutions that addresses global water, wastewater treatment, recycling water, and air quality needs. The company is focused on developing and marketing Greentech solutions for emerging countries, where rapid economic growth has put extraordinary pressure on the environment and related infrastructures. Such countries include, among others, China, India, Singapore, Brazil, Vietnam, and the Philippines. For more information on Hallmark Environmental Technologies please visit [http://www.HallmarkEnvirontech.com.
Re:WaterTM is a registered trademark of Hallmark Environmental Technologies.
URBN Hotels Shanghai:

China's First Carbon-Neutral Hotel
Fodor's Choice, 2010
That's Shanghai, Best Hotel 2009 & 2010
Time Out Shanghai Best Boutique Hotel 2010
Travel + Leisure Magazine Top 10 Greater China Boutique/Design Hotels 2009
Conde Nast Traveler "Hot List" 2009
CNBC Asia Pacific Property Awards "Best Small Hotel" 2009
Partners of Shanghai Roots & Shoots, Million Tree Project
Download URBN's Electronic Brochure: http://www.urbnhotels.com/brochure.html
Download Images: A selection of the hotel's images can be downloaded at
http://www.urbnhotels.com/IMAGEGALLERY.zip in high resolution.
# # #