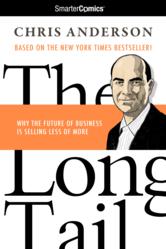 Eric Schmidt, Executive Chairman of Google, says Anderson's ideas "influence Google's strategic thinking in a profound way."
(Vocus/PRWEB) March 17, 2011
According to WIRED Magazine Editor in Chief Chris Anderson, making money is all about the profit margins on a multitude of unique smaller items. The sales strategies of both Amazon.com and Netflix have proven him right. Now, his bestselling book, "The Long Tail: Why the Future of Business is Selling Less of More" is available in an illustrated comic book format. Best of all, readers can maximize their time and learning potential while enjoying the engaging illustrations. This book is built for speed.
The term 'the long tail' refers to a mathematical distribution of the overall population in a Gaussian distribution. In plain terms, the majority of the population is spread out in a long, thin tail of different likes and desires. If a retailer manages to offer enough product variety, he's more likely to get hits all along that long tail, which results in a steady stream of profit. Putting all of his promotional efforts on only one or two items is riskier, and may not pay off with nearly the same positive financial results. Another way to visualize this is by applying the Pareto principle: 20% of the products tend to attract an uneven amount of attention compared to the other 'long-tail' 80%. While blockbusters bring in significant sales figures, they aren't the only notable breadwinners on the virtual shelf.
Chris Anderson's groundbreaking work is especially applicable in an age where brick-and-mortar retailing is something of an antiquated option. The internet frees retailers from the constraints of a traditional 'store' and allows them to display literally millions of items in their front window. No matter what the particular inclinations of a customer are, a retailer can easily offer something of value to that individual. The only costs are in inventory and marketing, but these expenses can be minimized, thanks to the savvy application of shipping networks and the creation of 'virtual items' such as eBooks. The customer already has the physical item: the store merely charges for the content delivery.
Chris Anderson's background in technology and science has allowed him to craft a clean, insightful writing style that fearlessly embraces the future while intelligently referencing the past. His seven years as a writer and editor for "The Economist," combined with his research stints at Los Alamos have been given him the technical chops to transform abstract mathematical concepts into real-life success stories. This is not a writer who daydreams about the future; Chris Anderson is a hands-on thinker and entrepreneur at the leading edge of where technology can and will go.
The SmarterComics illustration edition of the "The Long Tail from SmarterComics," hits bookstores on April 16th. The physical copies (published by http://www.rountablecompanies.com) will retail for $12.95; the iPad/android tablet version will be $6.99. The smartphone version for iPhone/android phone will be $4.99 The eBook (online) is free. For more information, please visit http://www.smartercomics.com.
###